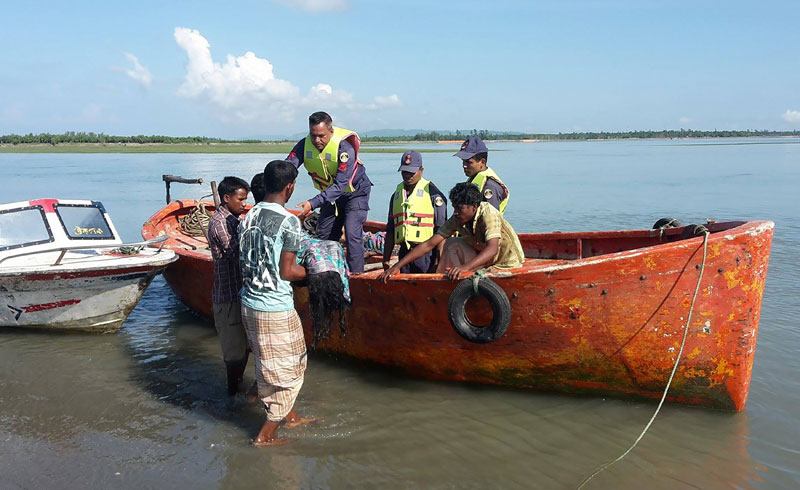 At least 10 people drowned and dozens more are missing after a boat packed with Rohingya fleeing to Bangladesh sank on Monday, the latest victims of a half-million-strong exodus sparked by an army crackdown in Myanmar.
The boat was carrying an estimated 50 people when it went down in the estuary of the Naf river that divides the two countries, Border Guard Bangladesh area commander Lieutenant Colonel S.M. Ariful Islam told AFP.
Nearly 200 Rohingya are known to have drowned over the last six weeks making the perilous crossing to Bangladesh, many in small wooden fishing boats that are dangerously overloaded.
Islam said 21 survivors had swum to safety after the small fishing trawler overturned, and coast and border guards were conducting a search and rescue operation in the Naf river.
Sheikh Ashrafuzzaman, a senior police officer, told AFP authorities had recovered the bodies of six children and four women.
"The accident happened during early morning prayers," said Shams Uddin, a resident who witnessed the disaster. "I think the boat overturned as the boatmen tried to reach the shore against the returning currents."
Another border guard told AFP the boat was just 200 yards from the Bangladesh coast when it sank in rough waters.
Fazlul Haq, a local official, said the boat was owned by a Bangladeshi villager who had made large sums of money ferrying Rohingya into the country.
He said the small fishing trawlers were highly vulnerable to accidents as they approached the shore, where they are often buffeted by large waves.
Refugees are often charged exorbitant fees for the trip.
The latest accident came a week after another boat packed with Rohingya refugees capsized in the area, killing at least 34 people including  many children.
© AFP