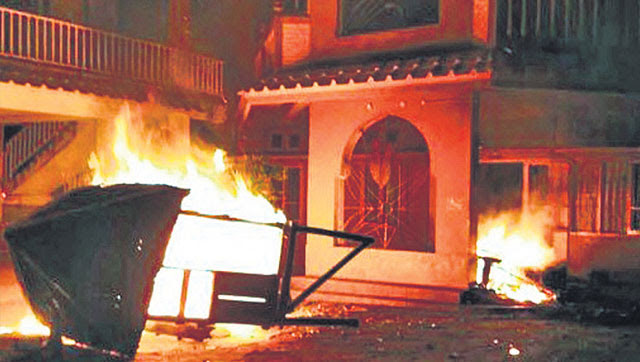 Protesters went on the rampage in India's remote northeast overnight over controversial tribal rights laws, leaving three people feared dead and homes burnt, a senior local official said Tuesday.
Police fired on the protesters in Manipur state after they torched the homes of local and federal lawmakers, hours after the bills passed through the local parliament.
Manipur authorities imposed an indefinite curfew in Churachandpur town following the violence late Monday, some 60 kilometres (40 miles) southwest of state capital Imphal, according to the Press Trust of India news agency.
"One person was charred to death in one of the MLAs' (member of legislative assembly) house," Manipur home secretary J. Suresh Babu told the NDTV network.
"Subsequently, there was police firing done... in which one person has been killed and another person has been suspected to have been killed," he said, adding that up to eight others were injured.
Babu said the situation had been "brought under control".
Tensions have been rising in recent weeks ahead of a vote on three bills aimed at giving more rights to indigenous groups who accuse "outsiders" of taking land and jobs.
Concerns have been mounting over a clause setting 1951 as the base year for classing residents as indigenous, with those settling in the state before then given land rights, rights activist Babloo Loitongbam said. 
Those who fled rebel fighting in neighbouring Mizoram state in the 1960s for Manipur along with ethnic Chins who fled Myanmar in the same decade fear they will be classed as "outsiders", he said.
Manipur, which borders Myanmar, has long been mired in separatist violence, with rebels claiming to be fighting for the rights of neglected tribes and ethnic groups.  
© AFP