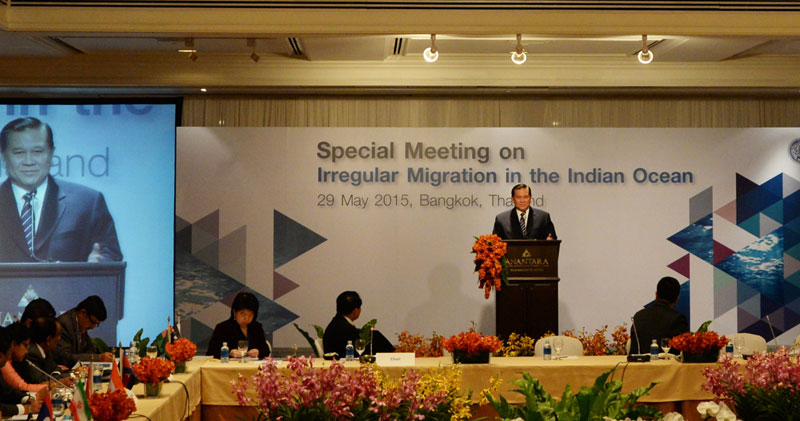 Australia has pledged A$6 million (US$4.59 million) and the United States US$3 million in response to an appeal from the UN International Organisation for Migration (IOM) for $25 million in emergency humanitarian aid to impoverished Rohingya and Bangladeshis.
Australia will allocate A$1 million (US$764,000) for assistance to migrants rescued from the Indian Ocean and A$5 million for humanitarian aid in Rakhine state and Cox's Bazar.  Japan is also considering responding to the appeal. The US pledge is in addition to $109 million already allocated this year for Rakhine State and other vulnerable populations within Myanmar.
The pledges were made in Bangkok yesterday as high-level representatives of 17 regional countries, officials of three UN agencies and observers resolved to coordinate efforts to search for, rescue and protect migrants stranded on fishing boats after being abandoned by traffickers. Indonesia and Malaysia, which ten days ago reversed their policies of pushing the boats back to sea. The countries together have promised to accept up to 7,000 boat people for repatriation or resettlement in third countries, provided "the international community" completes their repatriation or resettlement process within one year.  So far the two countries are hosting more than 3,000 rescued Bangladeshis and Rohingya.
Indonesia, Malaysia and Thailand agreed to allow officials of the IOM and the UN High Commissioner for Refugees (UNHCR) to visit with and screen all the migrants.  It was less clear how Thailand will shelter boat people rescued from its waters in the future. General Tanasak Patimapragorn, who is both Thai deputy prime minister and foreign minister,  said that 600 boat people have arrived in recent weeks and are being held in a temporary holding camps in southern Thailand. But he emphasized in a mid-day press conference that the immediate Thai plan is to launch two ships in the Andaman Sea that will operate as "floating platforms" providing medical care to rescued migrants and screening them to determine their nationalities.
The Thai government also said yesterday that US military planes - which have been launching flights from Sabang, Malaysia, to search for migrants lost at sea - will now be permitted to fly from bases in Thailand. There are no solid estimates of how many people may still be stranded on boats. "There may be 7,000 to 9,000. There could be only 3,000," said Gen Tanasak.
The delegates' opening public remarks and the concluding agreement emphasized the provision of immediate humanitarian aid and processing, as well as the need to break trafficking networks and prevent illegal migration.  Forty-four Thai policemen are currently being investigated for suspected involvement in trafficking Bangladeshis and Rohingya to Malaysia via Thailand, Gen Tanasak said. 
On Myanmar's part, "one such activity is the regular patrolling in Myanmar territorial water by the Myanmar Navy and Air Force to deter any illegal trespassing in the territory and to provide safety to trespassers, if any, in the sea," said the leader of the Myanmar delegation,  Foreign Ministry director-general U Htin Lynn, in his opening remarks.
While the importance of addressing "root causes" of the migrants' exodus was also frequently mentioned, specifics were vague.
On the sidelines of the meeting, Chris Lewa, founder of the Arakan Project, and Maung Kyaw Nu, president of the Burmese Rohingya Association in Thailand, welcomed the promise of humanitarian aid and screening but said that Rohingya would continue to flee their homes as long as the Myanmar government failed to recognize them as citizens. It's a subject that Myanmar has refused to address. "I don't expect groundbreaking news today. It's the first time that ASEAN engaged this issue in an open manner. It's important that there's pressure from the region," Ms Lewa said.
UNHCR urges Rohingya citizenship
Last week, US Deputy Secretary of State Antony Blinken told reporters in Yangon that the Rohingya "should have a path to citizenship."
Volker Turk, UNHCR assistant high commissioner, made the same point in his opening remarks at yesterday's meeting. Addressing the factors leading Rohingyas to flee Myanmar requires "full assumption of responsibility by Myanmar to all its people" and "granting citizenship is the ultimate goal," he said. In response, U Htin Lynn in his own remarks said that his country should not be singled out" as the cause of illegal migration by boat people. 
Norachit Sinhaseni, Thailand permanent secretary of foreign affairs, chaired the meeting and delivered its final conclusions. In reply to the question of whether citizenship for Rohingya had been discussed and if progress had been made, he replied, "No and no." But asked at her own conference a short time later whether the topic of citizenship for Rohingya had been discussed by the delegates, US Assistant Secretary of State Anne Richard said, "It was introduced at some point and discussed."
The financial assistance to Rakhine state and Cox's Bazar is intended to tackled the exodus by creating more livelihood opportunities at home. According to the delegates' concluding statement, foreign aid will do this  "by providing economic incentives that create more jobs, promoting trade and investment and development assistance, enhancing a sense of security and being, promoting full respect for human rights … and services such as housing, education and healthcare."
Asked at the closing press conference whether the Myanmar delegation agreed with "those aspirations," Mr Norachit said, "Yes, it agreed."
"We want to change the situation at the source so they won't feel the need to flee," said Ms Richard. "We're all hoping they can go home to Myanmar."
Chris Lewa of the Arakan Project, who was an unofficial observer at the conference, had  returned Thursday from northern Sumatra,  where she visited three of the five camps holding about 1,850 boat people rescued by Indonesian fishermen.  Staff from the UN's International Organisation for Migration is already providing services to these camps, she said.  The total population "may be fifty-fifty" Bangladeshi and Rohingya, Lewa estimated.
She also visited Malaysia but was unable to visit the 1,150 people rescued in recent weeks off the Malaysian coast because they are being held in detention jail in the northern Malaysia state of Kedah.  "Probably about seventy percent are Bangladeshi. The Rohingya should be looked at as refugees because they won't be accepted back into Myanmar."
The delegates at Friday's meeting in Bangkok agreed that all the boat migrants will get access to officials of UNHCR and IOM for screening.