Constitutional reform and the politics of obfuscation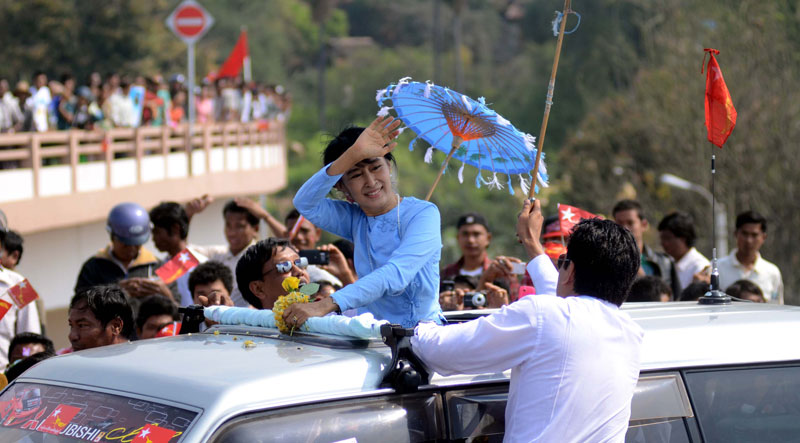 In late November 2013, Daw Aung San Suu Kyi wrote to President U Thein Sein in her capacity as chair of the National League for Democracy to ask that he convene high-level four-party talks to discuss constitutional reform. She proposed that the talks involve the President, herself, Union parliament Speaker Thura U Shwe Mann and Tatmadaw Commander-in-Chief Senior General Min Aung Hlaing.
Then the politics of obfuscation took over. That can mean a long time in Myanmar.
On November 25, 2014, the Union parliament approved what was described as an "urgent" proposal for high-level six-party talks to discuss constitutional reform and other national issues. They took place on April 10 and produced agreement to meet again after parliament reconvenes in May.
The six-party talks in Nay Pyi Taw brought together President U Thein Sein, Upper House Speaker U Khin Aung Myint, Lower House Speaker Thura U Shwe Mann, Tatmadaw Commander-in-Chief Senior General Min Aung Hlaing, Daw Aung San Suu Kyi, and Rakhine National Party chairman, U Aye Maung, who participated as a representative of ethnic minority groups.
They are reported to have discussed a 116-page report submitted to parliament in October by the Parliamentary Constitutional Amendment Implementation Committee, which comprised 31 MPs. The committee was appointed by the Pyidaungsu Hluttaw in February last year to consider the findings of the 109-member Parliamentary Constitution Review Joint Committee, which was appointed in July 2013 and considered more than 28,000 submissions, many of which favoured constitutional reform.
Responding in early December 2013 to the NLD leader's call the previous week for four-party talks on constitution reform, presidential spokesperson U Ye Htut referred to the role of the constitution review joint committee appointed five months earlier.
He also, not unreasonably, said proposals from the 57 other political parties should be sought as well.
In a major setback for Daw Aung San Kyi, the NLD, and all supporters of constitutional reform, Lower House Speaker Thura U Shwe Mann told a news conference on November 18 last year that it would not be possible to amend the constitution until after the election.
The constitutional amendments long sought by the NLD, and backed last year by about five-million signatures on a petition it organised jointly with the 88 Generation Peace and Open Society Movement, would change provisions that make Daw Aung San Suu Kyi ineligible to hold the presidency and challenge the military's grip on power by eliminating its effective veto over charter change. Constitutional amendments require the support of more than 75 percent of the parliament in which non-elected military MPs hold 25 percent of the seats.
It was always going to be a challenge for Daw Aung San Suu Kyi to get her way on constitutional reform.
Perhaps the NLD's decision in 1996 to boycott the national convention formed by the junta in 1993 to draft a new constitution was a tactical error. The NLD's anger and disappointment over the outcome of the 1990 election, in which it won more than 80 percent of the vote, is understandable. As an expression of the people's will, the election was a triumph for the NLD. But it was not an election for a parliament. It was an election for a constituent assembly, as acknowledged by Daw Aung San Suu Kyi in an interview published by Asiaweek on July 1, 1989.
"Whoever is elected will first have to draw up a constitution that will have to be adopted before the transfer of power," she said.
"They haven't said how the constitution will be adopted," the NLD leader said of the military government. "It could be through a referendum, but that could be months and months, if not years."
She was right about the delay.
The convention committee lay dormant until it was roused by the unveiling in August 2003 of the junta's carefully choreographed seven-point roadmap for a transition to a "discipline-flourishing" democracy. The first step of the roadmap required the reconvening of the convention committee, which had been suspended since 1996, to draft a constitution. The committee reconvened in 2004 at a retreat on the outskirts of Yangon where it met intermittently until its draft of the constitution was released on April 9, 2008. In most of the country, the draft was put to a referendum on May 10, only days after the Ayeyarwaddy Delta was devastated by Cyclone Nargis, with the loss of tens of thousands of lives. Despite domestic and international appeals to postpone the referendum and focus on a relief effort, the junta refused to countenance a disruption to the previously-scheduled vote and it went ahead as planned in most of the country, though it was postponed in many townships in Yangon and Ayeyarwaddy regions until May 24. On May 15 the government said the constitution had been approved by 92.4 percent of voters. (Mizzima, then an exile-media organisation, reported from Chiang Mai on May 2, 2008 that an opinion survey it had conducted in Myanmar of 416 respondents found that 71 percent said they did not understand the constitution, 64 percent said they intended to vote in the referendum and 52 percent said they would vote yes).
After having devoted seven years to drafting a constitution that ensures it retains a decisive grip on the reins of power as part of its meticulously planned transition, the military has no immediate interest in charter reform. Daw Aung San Suu Kyi and the NLD are stymied.
"The military are talking from a position of strength," Myanmar analyst and former British diplomat Derek Tonkin told Mizzima Weekly in an email interview.
"Though US financial sanctions continue to create technical difficulties for many foreign investors, the extent of international economic management has made a renewed sanctions campaign well-nigh impossible," said Mr Tonkin.
The NLD leader was well aware of this, which was why she has not given the "slightest hint" of reverting to a sanctions campaign, he said.
"She has in any case lost the support of many in the West through the tactical comprises she has made on human rights issues in pursuit of her own personal political agenda," said Mr Tonkin. "Her failure to at least show compassion to those who have suffered in Rakhine State and elsewhere has disappointed many."
Exercising an option to boycott the election would also be a fraught strategy for the NLD.
"The military would be only too delighted if she were to seek to boycott the elections this year," said Mr Tonkin.
"The NLD would almost certainly split, far more seriously than it did in 2010, and Suu Kyi would find herself in the political wilderness again as failure by the NLD to contest seats in the elections would lead to their demise as a registered political party," he said.
"But a boycott might give Suu Kyi the opportunity to revive her tarnished image and assure her international political legacy as a true champion of democracy which many believed her to be until she started to operate in the political arena."
Meanwhile, the talking continues about constitutional reform and other key issues. There's been a lot of it. As well as the next expected round of six-party talks after parliament reconvenes in May, there's also been the 14-party talks arranged by President U Thein Sein last October, and the April 8 meeting hosted by the President with more than 40 political party leaders and senior officials. In December, the Yangon Region parliament proposed 12-party talks.
A criticism by President U Thein Sein of Daw Aung San Suu Kyi's initial proposal for four-party talks was that they would not be inclusive enough.
The NLD leader maintains that if too many are involved in talks on constitutional reform they will be unwieldy.
But why did she exclude a representative of the ruling Union Solidarity and Development Party and of an ethnic minority party from her proposal for four-party talks?
"She has always seen herself as the moral equivalent of the President, before that the Senior General [Than Shwe]," a veteran specialist of Myanmar politics, Professor Robert Taylor, told Mizzima in an email.
"It is her way of demonstrating her assumed support at home and abroad; other leaders would be of less stature in her view, I guess," Prof Taylor said.
Asked why he thought the NLD leader's proposal for four-party talks was not successful, Prof Taylor said he guessed it was because the idea did not have the endorsement of the parliament, as did the six-party talks.
Prof Taylor said time constraints meant it was unlikely the constitution could be amended before the election, though it was possible a referendum on charter reform could be held simultaneously with the vote.
He doubted whether the six-party talks could contribute to the constitutional reform process.
"Since the issues are well known, and previous positions taken, it is difficult to see how the talks can move things forward unless views are changed," Prof Taylor said.
---
This Article first appeared in the April 23, 2015 edition of Mizzima Weekly.
Mizzima Weekly is available in print in Yangon through Innwa Bookstore and through online subscription at www.mzineplus.com