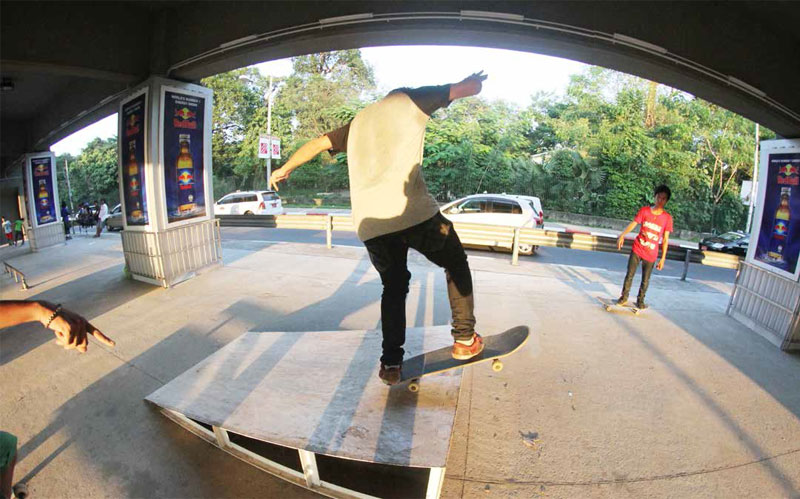 They zoom past you in a blur. They leap and dance skywards, defying gravity. They bend over, backwards, like contortionists in a circus fair. While doing death-defying stunts they are expected, always, to have the grace of prima ballerinas.
Whether they sport rollers, or the steel that cuts across ice, or narrow boards, whether they sprint through cement or ice or snow, or obstacles of wood and iron and rubber, skaters represent the best balance of athleticism and artistry. They are fierce and driven, the stars of ten-hanky movies and tabloid scandals.
Gymnasts perform indoors. Skaters can celebrate their skills amid nature or the chaos of man-made jungles. Have skates, will roll - but where, is the question hounding Myanmar skaters who wish to improve their skills under safe conditions.
No infrastructure
While few for now aspire to the world-class leagues that provide high income, young people in Myanmar want to explore the potential mix of fitness and art that skating offers.
They are frustrated by the lack of competition and infrastructure.
"The biggest problem for skaters is the lack of skating rinks. A skater needs much space. Skaters should not practice on roads and streets," points out Ko Kyaw Lin Oo, an amateur skater from Sanchaung Township.
Yangon once had a skating rink in Thingangyun Township. But it was closed for various reasons.
Ko Kyaw Lin Oo is right in noting the need for safe spaces. Some forms of skating can be aggressive, like inline skating and inline speed skating. Even with the more passive forms, injury risks apply for both practitioners and passersby.
Expensive sport
Because of the small number of fans, skating equipment and services are also expensive In Myanmar. The costs discourage middle-class youth. For now, only young people from the upper economic classes are attracted to the sport.
Skateboards, for example, can cost as high as US$190 (K190,000) for models with international standards. That's higher than the monthly salary of a middle school teacher in Myanmar.
There are cheaper skateboards manufactured in neighbouring countries, with prices from 25,000 kyat to 100,000 kyat. That's still too expensive for most families.
"We perform skating just for pleasure," says Ko Kyaw Lin Oo. "Under this country's circumstances, it is impossible to be a professional skater. Injuries and regrets are the only things [Myanmar] skaters can get."
The potential of injury – movie dramas about skaters highlight bad falls that cause paralysis and blindness – make parents wary of the sport. Having to skate in less than favourable conditions only increases the risks.
Because their parents won't shell out money for what seems to be a dangerous activity, young skaters in Myanmar have to save their pocket money to buy a skateboard, according to skater Ko Thu Wai.
"Around 2012, we encountered difficulties in buying a skateboard," says Ko Thu Wei. "Myanmar did not have as many skateboard shops as it has today. And our parents did not support skating."
With communications technology giving citizens a glimpse into the glamorous world of the Winter Olympics and the popular movie videos and movies that feature skateboard athletes, interest is slowly picking up in Myanmar.
Dangerous roads
But for now, skaters have to make do with using the space under Yangon's Hledan Flyover, a dangerous option that can cause road accidents.
They want authorities to take a look at neighboring Thailand and India, which have established skating zones in some recreational parks.
"India strongly encourages skating," says Ko Phoe Thar, who has lived in that country. "It has skating zone in every park in every city across the country. In India, every young person learns at least the basics of skating."
In the scheme of priorities of state and citizens, skating development is at the bottom of the list. But Myanmar youth hope that as the economy and social conditions improve, their dreams may still come true.
Who knows, maybe one day, the country will learn to love those blades of courage.
---
This Article first appeared in the Apirl 30, 2015 edition of Mizzima Weekly.
Mizzima Weekly is available in print in Yangon through Innwa Bookstore and through online subscription at www.mzineplus.com