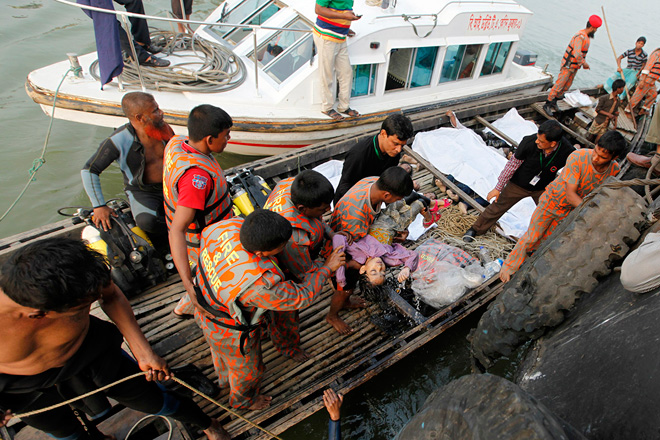 The death toll in a ferry accident in central Bangladesh soared to 69, after more bodies were recovered from the overcrowded boat which sank within minutes of colliding with a cargo vessel.
A salvage vessel fitted with a crane raised the sunken ferry from the water, allowing the divers from the navy and fire department to search inside the small two-deck boat, inspector Abdul Muktadir told AFP.
Rescue workers recovered more bodies, working through the night, a day after the collision on February 22 on the Padma river which is one of the largest in the delta nation.
"This morning the bodies were found in the boat after it was raised and dragged to the shore. The death toll is now 69," said Mr Muktadir, on the morning of February 23, adding the boat was salvaged 16 hours after it sank.
The toll would rise further as the rescue workers could only search one part of the MV Mostofa boat which was lying at a tilt onshore, he said.
"The other parts would be searched once the ferry is righted," he added.
The sinking is the second deadly boat accident in a fortnight in the country, which has a history of ferry tragedies.
The government ordered a probe into the accident but the shipping minister, Shahjahan Khan, said the collision occurred as the boat was "in a race" with other vessels.
Officials said they did not know the exact number of people missing, but passengers said up to 150 people had been on board, while local police chief Rakibuz Zaman said 50 of those swam ashore or were rescued by other vessels.
Hundreds of people including relatives of the missing thronged the shore as rescuers searched inside the salvaged vessel and brought out the bodies.
A 15-year-old boy burst out in loud cries as the Red Crescent volunteers unzipped one of the white body bags.
Also at the scene in Paturia, some 70 kilometres (50 miles) west of the capital Dhaka, Kazi Anisur Rahman was carefully inspecting the faces of the dead to see whether they include his missing close friend.
"He is not among them. I spent the last 20 hours at the terminal looking at all the bodies," said an exhausted Mr Rahman.
"He did not know how to swim. So we fear the worst. Please Allah, help us find his body," he sighed.
Ferries do not normally keep passenger lists, making it difficult to establish how many are missing after an accident.
This month, at least five people were killed when an overloaded ferry carrying some 200 passengers capsized in an estuary in the south of the country.
And about 50 people were killed in August last year when a crowded ferry sank in rough weather.
© AFP