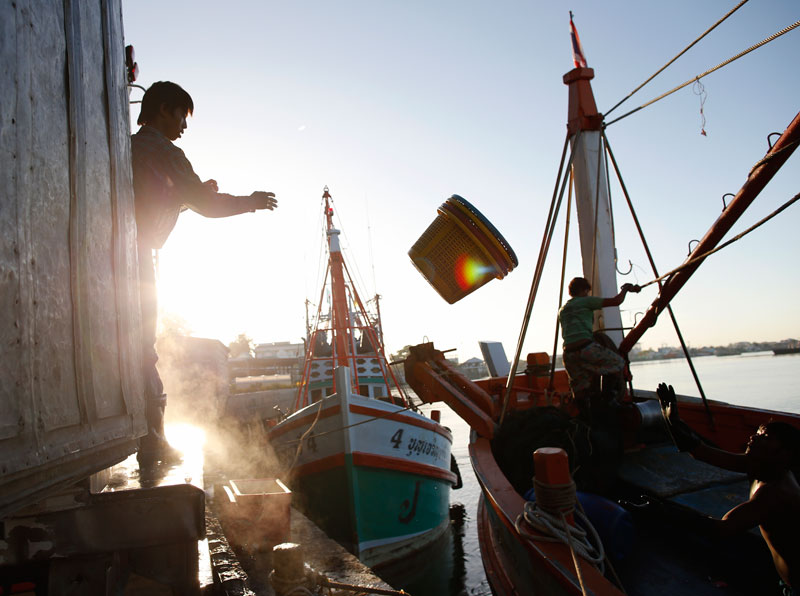 Around 5,000 Thai fishing boats have stopped operating out of fear they will be prosecuted over new rules, a fisheries body said Thursday, as authorities crackdown to avoid a European Union ban on fish products. 
The belated clampdown on illegal fishing, which comes in response to a "yellow card" issued by Brussels over inadequate fisheries monitoring, controls and punishment, is threatening to paralyse the world's third largest seafood producer.
In April Brussels warned that a "red card" and eventual import ban would follow, costing Thailand US$1 billion in European sales, if it failed to improve within six months.
The ruling junta has responded with a series of new regulations, with fishermen now required to register boats with authorities and acquire permits under revised standards, including installing equipment such as tracking devices.
Aphisit Techanitisawad, president of The Thai Overseas Fisheries Association, said "more than 5,000 vessels" had stopped operations due to the lack of a permit or the correct equipment.
Those caught fishing while flouting new rules face a fine of up to 100,000 baht (US$3,000) and a year in jail, he said.
"A lot of fish markets have no catch today. In one more week there will be no more fish to sell. Factories are affected already, they don't have raw materials (for processing)," Aphisit told AFP, saying some workers had already been laid off.
"Around 20,000 migrant workers may lose their jobs," he added, saying that the government ought to buy back fishermen's boats if it wasn't prepared to issue them with permits so that they "can look for new jobs".
Thailand's vital fisheries industry is propped up by workers from Myanmar and Cambodia.
In recent years Thailand's image has been battered by a series of fishing abuse allegations from prominent rights groups including ships using slave and child labour as well as accusations of human smuggling.
Since the US downgraded the kingdom to its lowest ranking on human trafficking last year, a designation that can trigger sanctions, Bangkok has been desperate to rebuild its reputation, laying out new measures to clean up the industry.
On Tuesday authorities arrested two Thai men on human trafficking charges, accusing them of being "ring leaders" in the illegal procurement of workers in Samut Sakhon, Thailand's biggest fishing hub, and sending them to work on an Indonesian island.
According to the latest figures provided by a Thai Navy official on Wednesday, 27,886 trawlers have registered under the government's new scheme with more than 12,000 trawlers still unregistered. 
There have so far been no arrests for illegal fishing.
© AFP