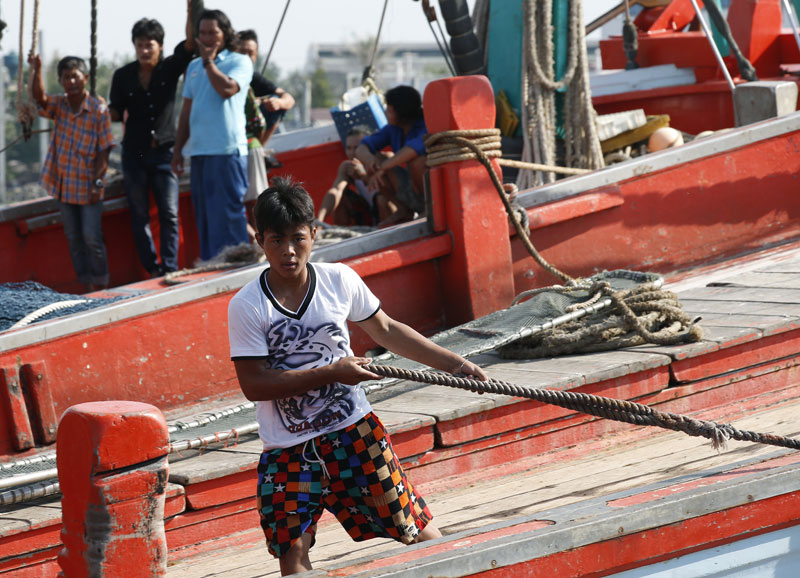 It is estimated that 2.5 to 3 million Myanmar workers are toiling away in Thailand, at least half a million of whom are in Samut Sakhon alone, a province next to Bangkok. Yet only around 3,000 voters have registered for advance voting at the Myanmar Embassy in Bangkok, Win Maung, Myanmar's ambassador to Thailand, told Myanmar Now in a telephone interview. 
The low figures are a result of many factors - a lack of awareness and information about voter registration procedures, a lack of trust in government officials, busy work schedules and travel restrictions placed on migrant workers.
Myanmar Now spoke to migrant workers who expressed their desire to vote but are either unable to do so or do not know how to. 
Kyaw Lwin Maung, 36, from Kayin state, works in a tyre factory in Mahachai 
"I've been here for over 2 years now. I have not checked the voter list to see whether my name is there. But I'm wondering whether I should go back or not. If my name is in the voter list, I'd like to go back. 
"But I cannot go back without permission from the workplace. Otherwise I would be sacked.
"It doesn't take too long to reach my village. If I go back at night then I arrive in the village by morning. But I'd have to carefully plan it. 
"There isn't much trust in the (system as yet). You can't also say for sure who's going to win. If my country is improves, I will go back. If I can have land and can make a living, I would go back. You have to leave your parents and children at home to come here. There are a lot of difficulties. My wife is here with me but our children are back in the village.
"I used to be a carpenter, but I also worked in agriculture. We left because we could no longer find jobs. We don't have capital so it's very difficult to have your own business too."
Soe Tun, 33, from Rakhine state, works in a tyre factory in Mahachai 
"I was a farmer when I was young. Then I became a monk for a while. When I left monkshood, without any capital, I didn't have any work. There aren't any factories like in this country. What was I going to survive on? That's why I came here three years ago. 
"I was still a monk in 2010 so couldn't vote. I haven't asked my family whether my name is in the voter list. 
"If I can go back easily, I want to go back and vote. But it might take about 10 days to get back because I would have to go to Yangon first and then back up to Rakhine on a bus.
"I know we should vote so that you can elect a president that can help develop the whole country and make it peaceful.
"It was really hard when I first arrived. I couldn't speak the language, I didn't know where to go. Living in someone else's country is not easy."
Tin Tin Htay, from Tanintharyi Region, 30
"I've been in Thailand for about 16/17 years already, since when I was around 13. I came with my parents who were coming here to work. 
"But I only started working when I turned 18. I'm working in a fish processing factory. I get 300 baht a day with only the Sunday off. 
"I want to vote. If I can vote from Thailand, I would like to. If not, I want to contact my family and see whether they can vote on my behalf. I don't know whether this can be done. 
"My parents are back home in Dawei and their names are on the voter list but mine isn't. I don't know the voter list display has ended already."
"I've never voted before. I was too young in 1990 and wasn't there for 2010."
Nge Nge, from Tanintharyi Region, 24
"I've been in Thailand for almost 10 years. I first came here when I was 14. My sister was already here. 
"We came here illegally. We left our village around 5pm on a motorbike and arrived in Dawei around 6pm. Then we walked in the jungle for four nights. There were about 20 of us. There were no tents or shacks. I came with my aunt and her husband.
"After a month I started working at a fish processing place. My job was to pick out fish based on their sizes and line them up, and also to cut out the dirty bits. 
"It is tiring of course, but my parents have a lot of children. There's not enough to eat. There are six of us.
"I was thinking of going back when things improve at home but I was told that it's still not so I'll have to stay here a bit longer.
"My mother and two younger sisters at still at home. My sister has her own family now and can't send money back. My brother said he's not doing so well. So I have been sending my family 100,000 kyats (about $80) per month.
"I know there's an election. I want to vote. But I still don't know whether my name is in the list or not. If it is, I want to vote for Daw Suu."