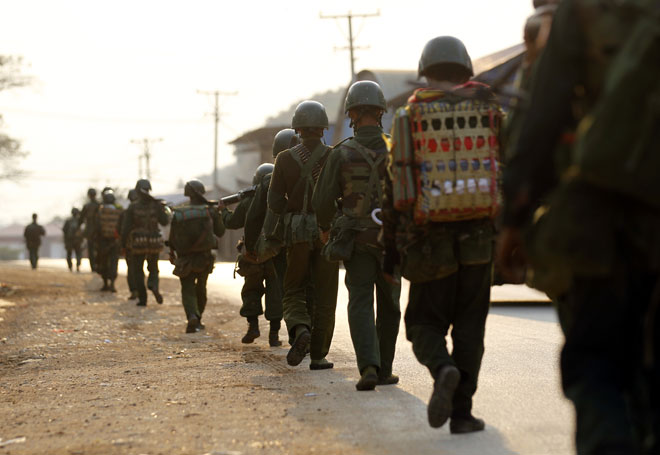 China warned over escalating violence between Myanmar's military and rebel forces after a civilian home was hit by shelling from across the border, apparently for the first time in the current unrest.
The warning came on March 10. Beijing has previously warned of a threat to border stability after the dramatic upsurge in ethnic conflict in the remote Kokang region in Myanmar's northeastern Shan State.
More than 30,000 people have fled from Myanmar into China's Yunnan province, according to Beijing's official news agency Xinhua, but it was the first time authorities confirmed artillery fire crossing the frontier.
Chinese foreign ministry spokesman Mr Hong Lei said the incident took place on March 8 when "some shells fell on Chinese territory, damaging a civilian home".
"China has expressed its solemn concern to the Myanmar side, and has asked the Myanmar side to investigate the case and take effective measures to prevent such incidents happening again," Mr Hong said at a regular briefing.
"We urge parties concerned in Myanmar to exercise restraint, cool down the situation and realise peace and stability as soon as possible."
Myanmar last month declared a state of emergency in Kokang in response to the conflict, which began on February 9.
The unrest has virtually emptied the main Kokang town of Laukkai, the epicentre of the fighting, with streets in the once-bustling frontier community transformed into a battleground.
It is unclear how many people remain in the remote region, which is under martial law and almost cut off from help by aid groups. There are no official figures on the civilian death toll.
© AFP