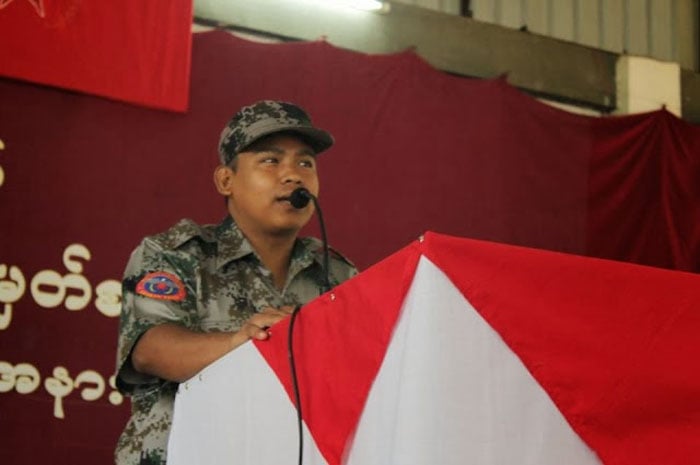 The Arakan Army (AA) Vice-Chief of Staff Col. Nyo Tun Aung said his troops had clashed with government troops in Kyauktaw Township, Rakhine State from December 27 until 29.
Government troops launched an offensive against the AA stationed at Yamchaung  Mountain, 5 miles north of Mahamuni pagoda in Kyauktaw Township.
"We had engagements with them today also. There has been sporadic gunfire today since 7:24 a.m. and then they launched an assault again at about noon. But they could not reach our positions near the Yanchaung mountain range area." Col Nyo Tun said yesterday.
The AA had similar clashes with government troops in April and almost in October.
"We were very close to having clashes with them one month before the general elections. But we avoided this as much as we could to not undermine the elections. This time too, we tried to avoid these clashes but they were inevitable. They suffered severe casualties on December 27 and then they regrouped and launched an assault against us with reinforcements yesterday. We clashed with them all day yesterday from 8 a.m. to 9 p.m. in 4-5 areas with a total of about 10 clashes," he went on.
It is believed that government troops suffered about 20 casualties while 3 soldiers from AA had minor gunshot injuries.
The AA is fighting with the government's Infantry Battalions (IB) 378 and 375 under the command of Military Operation Command (MOC) No. 9 and there are also about 15 government IBs operating in Kyauktaw Township. The government is still building up their forces in the area so more clashes are inevitable, Col. Nyo Tun Aung said.
He further added that the government might have launched an offensive against AA troops because of the number of seats won by the Rakhine National Party (RNP) in the recent general elections or they might not want ethnic Rakhine forces stationed and operating in Rakhine State.
Political Dialogue among parliament, political parties, Tatmadaw (Defence Services) and ethnic armed organizations will be held January 12 but the AA has not yet been invited to this dialogue. Col. Nyo Tun Aung said that AA was deliberately and politically marginalized from the political forum for peace.