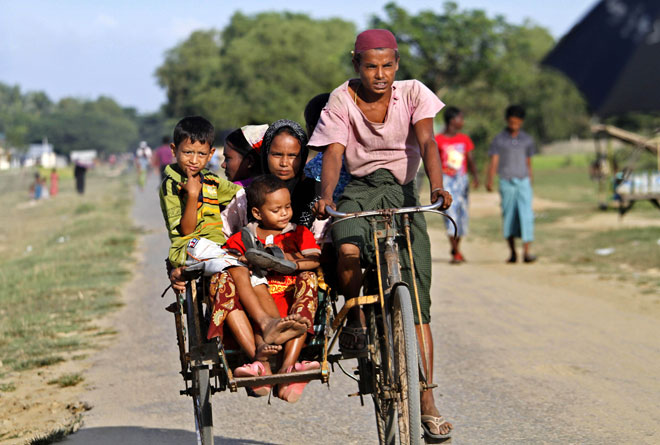 NGO Fortify Rights has called on the Myanmar government to immediately and unconditionally release a group of five Rohingya prisoners of conscience being held in Sittwe prison, Rakhine State, according to a press release from the NGO on March 14.
The group includes three prominent Rohingya community leaders imprisoned several days ago.
According to the NGO, criminal charges against the individuals stem from tensions in Rakhine State in April 2013 when government officials attempted to force stateless Rohingya to identify as "Bengali," a term implying they are natives of Bangladesh rather than Myanmar.
Local residents protested, chanting "Rohingya! Rohingya!," and violence ensued, leading the government to suspend its controversial "citizenship scrutiny" exercise. The rights group claims that shortly thereafter, the Myanmar authorities filed trumped-up charges against Rohingya community leaders and others.   
"The authorities are sending a clear message to Rohingya that any form of resistance will be met with reprisals," said Mr Matthew Smith, executive director of Fortify Rights. "This is a thinly-veiled attempt to undermine the community's social and political structures. It's a textbook example of persecution."  
On February 27, the Sittwe Appellate Court sentenced three of the men—Ba Tha, 63; Kyaw Myint, 61; and Hla Myint, 31—to eight years in prison. On March 8, the authorities transferred the group from their homes near an internally displaced persons camp to the Sittwe police station and later to Sittwe Prison. Two others—Solemon Begum, 50, female, and Mohamed Hashim, 22, male—have been imprisoned in Sittwe Prison since June 2013, and on February 27, the court added an additional five years to the three-and-a-half year sentence they are currently serving. The Court also sentenced a sixth Rohingya community leader, Kyaw Khin, 45, male, to five years in prison on February 27. He is currently in hiding.
The charges against the Rohingya community leaders relate to sections 147 [rioting], 333 [injuring a public servant], and 395 [armed robbery by a gang] of the Myanmar Penal Code, according to the NGO
Fortify Rights called on the Myanmar government to release all remaining prisoners of conscience in the country, including Rohingya. The NGO also called on the international community to respect and protect human rights in Myanmar, including the right of Rohingya to self identify.