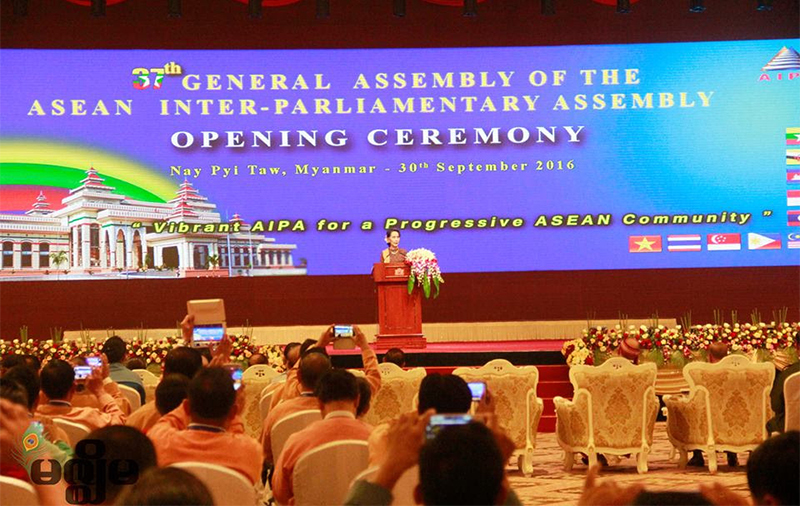 The 37th General Assembly of the ASEAN (the Association of Southeast Asian Nations) Inter-parliamentary Assembly (AIPA) on Sunday pledged to build a progressive ASEAN Community, according to report by Global Times. 
A joint communique issued at the end of the assembly called for more emphasis on the implementation of AIPA resolutions and need to work closely with the ASEAN to overcome the new challenges while moving towards ASEAN Vision 2025. 
The three-day AIPA general assembly adopted nearly 30 resolutions on issues of common interest which are of utmost significance to the ASEAN community. 
In his closing remarks of the general assembly, chair of the assembly U Mann Win Khaing Than who is speaker of Myanmar's parliament said the assembly had discussed topics such as ensuring cyber security in ASEAN, decent work for ASEAN women, preparedness and response to Zika virus infection, creating job opportunities and decent working condition in economic development, strengthening micro, small and medium enterprises and implementation of the Plan of Action of the ASEAN Declaration on strengthening social protecting. 
The assembly also adopted the draft resolution on the amendment to the Rules of Procedure of Women Parliamentarians of AIPA. 
He called upon AIPA Parliaments to continue raising awareness of AIPA's goals and activities among the people by taking the advantage of their role as the members of parliament. 
Under the theme of "Vibrant AIPA for a Progressive ASEAN Community", Myanmar's parliament hosted the 37th AIPA General Assembly for the first time and the presidency of the next assembly will be taken over by the Philippines.
Courtesy of Global Times