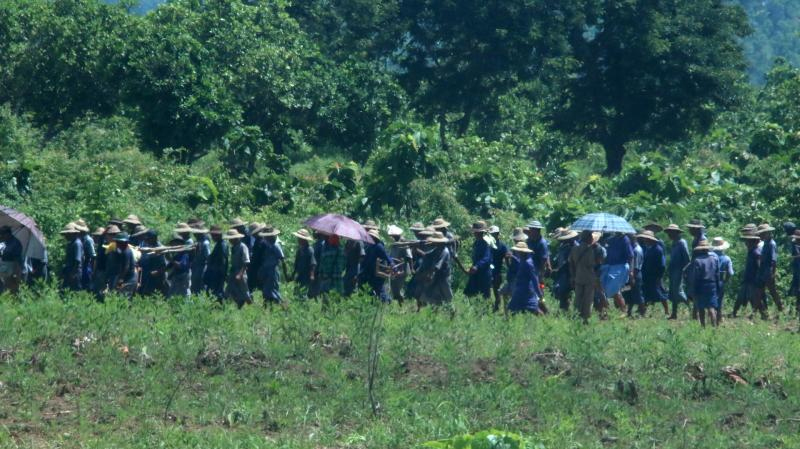 Hundreds of prisoners held in a jail in Mandalay Region held a rare protest on Tuesday calling for the replacement of the prison's superintendent and to demand greater rights, a government official said.
Min Tun Soe, deputy director of the Correctional Department of Ministry of Home Affairs, said about 700 prisoners in Myingyan Prison in Mandalay Region, central Myanmar, began shouting slogans at around 7 am.
They called for the removal of two prison officials, including Prison Superintendent Zaw Min Aung, and complained about the management. They also demanded the right to own more than three blankets and to be able to move freely between different wards.
Some people in the city of Myingyan, on the east bank of the Ayeyarwady River, were quoted by local media as saying the protest could be heard from outside the prison.
Min Tun Soe said a team of Correctional Department officials had travelled to the prison, where about 2,000 prisoners are being held, to start an inquiry into the prison management.
Of the prisoners' demands, he said, "We cannot possibly comply with their requests for free movement within the prison, nor their demand for possession of more than three blankets, which can pose a security threat.
"But we may replace the superintendent, though everything depends on the findings of the departmental inquiry."
He said the protest began after an incident involving a prisoner named KyawKoKo, 35, who is serving a life sentence for a murder case. He had a fight in the early morning with a prisoner assisting the management and was subsequently put into solitary confinement.
Just after Kyaw Ko Ko was put in solitary confinement, prisoners in Ward 1 and Ward 2 demanded that prison authorities release him from solitary confinement and began to shout slogans, Min Tun Soe said.
By 11 am, the loud protest has stopped and authorities held a meeting with three convicts representing the prisoners, he added.
Aung Myo Kyaw, a spokesperson of the Assistance Association for Political Prisoners in Myanmar, said woeful prison conditions, such as insufficient healthcare and food rations, had caused the protest.
"This is not a prison riot. This is just a protest against the prison management," he added.
Aung Myo Latt, a Mandalay Region Upper House lawmaker from the ruling National League for Democracy party (NLD), said he could still hear the protesters when he reached the prison gate around 11 am.
The prison superintendent told him a settlement had been reached between the prisoners and the management. The superintendent said the matter occurred as he was trying to tighten prison rules and regulations.
"I don't know what sort of settlement it is, but I heard that the prisoners were also demanding sufficient food rations," said Aung Myo Latt.
Myanmar's democratic reforms of recent years have largely by-passed Myanmar's 46 prisons and 48 prison labour camps, where an estimated 100,000 convicts are serving sentences.
During the previous, quasi-civilian government, food and housing conditions in prisons are said to have improved, but a recent investigation by Myanmar Now revealed widespread abuse, corruption and exploitation of prisoners held in labour camps.
Courtesy Myanmar Now