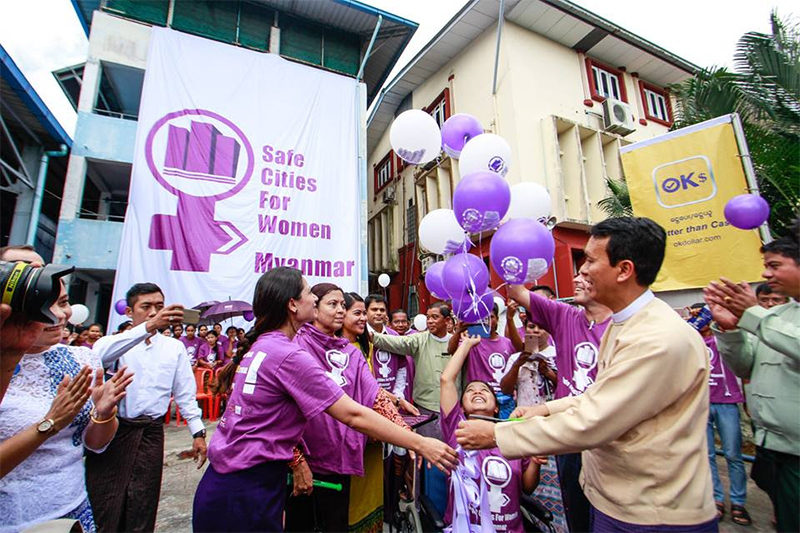 This week saw the launch of the Safe Cities for Women Campaign in Myanmar co-sponsored by ActionAid.
Yangon Chief Minister Phyo Min Thein and ActionAid Chief Executive Adriano Campolina spoke at the event attended by hundreds of women and men about the importance of making Myanmar's cities safe for women.
Earlier this year, paralegals and trainees of international development agency ActionAid swept the streets of Hlaingthaya Township to map safer routes for women to travel, in some cases walking at night in poorly lit or unlit streets. Women participants surveyed sections of streets for the possibility of sexual harassment – said to be a rising problem in rundown urban areas. 
These safety walk exercises collected data from its 240 community members and staff around the larger Yangon region for a complete map of the metropolitan area.
The Safe Cities for Women Campaign is a worldwide project started in July 2014 in 20 countries in order to reduce abuse towards women and the ensuing constant fear they experience. The Myanmar campaign comprises a series of events aimed at raising awareness and efforts to make the streets safer.
Involved parties are the Yangon Region Government, international NGOS, local NGOS, UN agencies, garment brands, manufacturers, Yangon City Development Committee (YCDC), and the Department of Electricity.
Since 2008, the world's population has become predominantly urban, with more than half of the world living in urban areas for the first time in history. It is estimated that 60 percent of all people will live in urban areas by 2030. Up to 95 percent of the growth is attributed to development, while one of every three urban residents are typically poverty-stricken, living in slums and illegal settlements.
Urban living for women has become harsh, dangerous and demeaning. According to UN Women, a woman is assaulted every fifteen seconds in Sao Paolo, Brazil. In a survey from Cambodia, 8 percent of all men reported they had raped a woman or a girl who was not their partner, and 5 percent said that they had participated in a gang rape.
The staggering prevalence of sexual violence against women is left unaddressed by the authorities, who might ridicule or blame the victim. They are sometimes perpetrators themselves. In locations with a high level of corruption, police have been reported to extort or solicit sexual acts in compensation for dropping charges of prostitution or minor transgressions. In Bangladesh, over 60 percent of women interviewed by ActionAid said they would not advise female friends to go to the police if attacked.
Additional reporting by Tara Lee