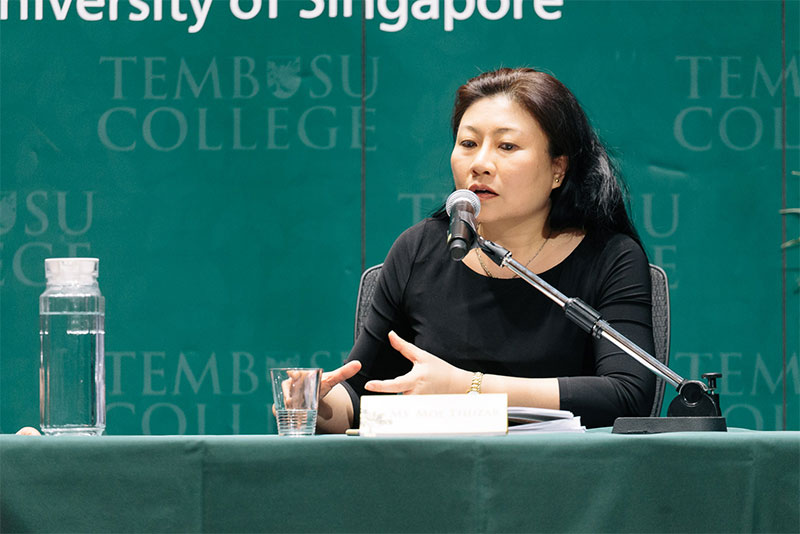 The world is coming to grips with the reality of Donald Trump as the next President of the United States and what this would mean for the US's relations with its treaty allies and trading partners worldwide. Southeast Asia is no exception. Governments in the region are now assessing what a Trump presidency will mean for their relations with the US, individually as well as collectively under the umbrella of the Association of Southeast Asian Nations (ASEAN). The concern is all the more palpable as 2017 marks both the 50th anniversary of ASEAN's founding and the 40th anniversary of ASEAN-US Dialogue Relations.   ASEAN-US relations were elevated to strategic partnership level in 2015. A joint work plan spanning 2016 to 2020 highlights priorities for economic integration, maritime cooperation, transboundary issues such as climate change, and supporting emerging leaders and women's opportunities. Reconciling the rhetoric and reality of Mr Trump's foreign policy pronouncements thus takes on considerable relevance for the ASEAN member states, particularly a country such as Myanmar which is once again emerging on the regional and international scene under a civilian government that was voted in on an agenda of change.
2017 will also mark the 20th anniversary of Myanmar's admission to ASEAN. This anniversary occurs in a new chapter of Myanmar's foreign policy. State Counsellor Daw Aung San Suu Kyi has reiterated a continuation of foreign policy principles pursued in the post-independence years.  Part of this policy is a larger regional role. The National League for Democracy (NLD) government's vision for Myanmar's ASEAN role draws inspiration from the vision of General Aung San, who pictured in 1947 a "United States of Indochina" where independent Burma, together with the countries in what was then French Indochina, as well as Thailand, Malaya and Indonesia, would work together for "mutual or multilateral interests of defence or economics" to survive together in a "dangerous" international environment.  This early vision takes on an almost eerie significance in the grip of geopolitics that the region finds itself in today.
There is considerable potential for Myanmar to take on a more assertive and active role. Being admitted to ASEAN whilst under a military junta and amidst international sanctions meant that national security and stability concerns overrode all other concerns for Myanmar. This preoccupation with domestic issues and concerns characterised the country's foreign policy direction until recently. The landmark elections of November 2015 which gave a resounding mandate to the NLD to form a government and take the democratic transition forward also gave Myanmar new opportunities to assume a greater role in ASEAN and international affairs.
Myanmar has followed a neutralist foreign policy with multilateral overtones since independence. This neutralist policy was implemented first by Burma's first prime minister U Nu, who balanced his country's survival needs strategically between the US and China, and espoused non-alignment as part of this strategic neutrality. But, under the socialist rule of General Ne Win, the increasingly isolationist policies led the country towards economic and political decline. Under the military rule of the State Law and Order Restoration Council (SLORC), isolation under sanctions pushed Myanmar to closer alignment with China.  There were nascent efforts to diversify partnerships by re-joining the Non-Aligned Movement (which Burma had left in 1979) and applying for admission to ASEAN. But because these efforts were largely initiated by the Ministry of Foreign Affairs rather than by any internal motivation of the SLORC's generals, they had limited impact for any hopes of constructive change. Additionally, the military junta and the ASEAN members had different expectations of how this change could be brought about. Still, ASEAN continued to monitor developments in Myanmar, and, from 2003 to 2012, kept up a steady call for peaceful transition towards democracy. A low point was reached in 2007 when ASEAN issued a strongly worded statement regarding the suppression of the Saffron Revolution. It took the tragedy of the 2008 Cyclone Nargis for ASEAN to take up a coordinating role in responding to humanitarian needs in the cyclone-affected areas. This, to some extent, motivated the Union Solidarity and Development Party (which came to power in the largely orchestrated elections of 2010) to initiate political and economic reforms in 2011. The reforms gave impetus to a new beginning for Myanmar in ASEAN, starting with Myanmar taking up its deferred turn to chair ASEAN in 2014. The political reforms also facilitated the NLD's re-entry into politics under the leadership of Daw Aung San Suu Kyi. The rest is history, as the saying goes.
The NLD government, with Daw Aung San Suu Kyi at the helm, has brought in strategic nuances in balancing Myanmar's relations with major partners such as the US and China, and in emphasizing the importance of ASEAN's rules-based principles in bilateral and multilateral partnerships. This will most likely provide the basis for Myanmar's dealing with with a Trump-led US – bilaterally as well as in the context of ASEAN-US dialogue.
It is as yet unclear whether a Trump presidency will accord the same strategic priority to US-Myanmar relations, or even US-ASEAN relations, as the Obama administration did. The focus on Myanmar, and the encouragement given to it, by the Obama administration (in particular Secretary Clinton) played a key part in Myanmar's democratisation, helping diversify economic relationships and consolidate its emerging role on the ASEAN and the international front. Some optimism is emerging that Mr Trump may welcome "counsel" from Mr Obama on certain domestic and foreign policy concerns, but the nature and intensity of any potential close interaction between the two is still nebulous. Still, leading Republican senators such as John McCain have been supportive towards assisting Myanmar's transition, and the introduction of the bipartisan Cardin-McCain bill on the "Burma Strategy Act" in September 2016 signals that the US foreign policy interest on Myanmar will not entirely fade with a Republican presidency. On the whole, it is to be hoped that Mr Trump's election rhetoric will be substantially discounted with a more pragmatic policy agenda, including US engagement with ASEAN. He will have the opportunity to explain all this in person to Daw Aung San Suu Kyi and the other ASEAN heads of state and government at the ASEAN-US Summit in 2017. 
---
Moe Thuzar is Lead Researcher (socio-cultural) at the ASEAN Studies Centre, ISEAS-YusofIshak Institute.  The views expressed in this article are her own.  Her research paper on "Myanmar and ASEAN: New Beginnings, New Directions?" has been published online by the Myanmar Institute of Strategic and International Studies (MISIS) as part of a joint project by MISIS and the Norwegian Institute of International Affairs. It can be accessed through www.myanmarisis.org.