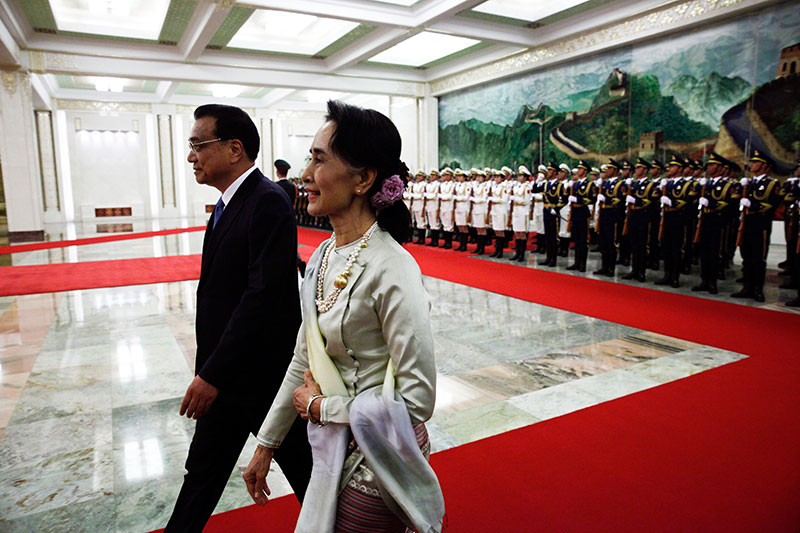 Conflicts between governmental forces and ethnic armed groups are once again escalating in northern Myanmar. Clashes recently erupted in the China-Myanmar border area and brought an influx of refugees to China's Yunnan Province. In fact, since independence in 1948, northern Myanmar has witnessed relentless conflicts, jeopardizing the life of ordinary citizens, China's security and the China-Myanmar relationship. Hence, Beijing firmly supports peace in Myanmar.
Just as Myanmar's State Counselor Daw Aung San Suu Kyi said, national peace and reconciliation are the key goals of Myanmar and "without peace, there can be no sustained development." Armed conflicts will bring a great number of refugees, distract foreign investments and discourage the development of the local economy, education, science and culture. 
In addition, relentless clashes will negatively affect Myanmar's global image and the country's economic and societal development. 
China is another victim of the conflicts. A number of clashes have erupted at the border, and refugees previously flooded into Yunnan for safety, posing a heavy burden on the Chinese government. For instance, the Kokang armed conflicts in 2005 brought an influx of refugees to Yunnan's Lincang, an underdeveloped region just hit by an earthquake. The Chinese government overcame these difficulties and offered assistance to its own nationals and Myanmese refugees. 
China sticks to the humanitarian principle and has properly resettled displaced residents from northern Myanmar. However, as Yunnan is still a disadvantaged province with an underdeveloped economy, infrastructure and transportation, the refugee resettlement is indeed a heavy burden on the local government.
Given the interlocking geography of the China-Myanmar border area, stray bullets from northern Myanmar fly into China's territory from time to time and have even injured Chinese civilians before. This poses a serious threat to local people's lives and property, as well as Yunnan's productivity and living order.
Conflicts will jeopardize the China-Myanmar relationship as well. Border trade is frequently suspended by clashes. This upsets the economic development of both countries, and is to blame for the slowed development of the border area. In addition, as governmental forces and ethnic armed groups have their respective spheres of influence, it is difficult for China to have large-scale cross-border economic cooperation with Myanmar. 
Clashes will impede China's programs in Myanmar and pose security threats to the China-Myanmar oil and gas pipelines and a number of other cross-border projects. The Bangladesh-China-India-Myanmar Economic Corridor which goes through northern Myanmar will be affected as well.
Conflicts may arouse public dissatisfaction and harm people-to-people friendship. On the one hand, some observers and media outlets from Myanmar accuse certain Chinese of supporting the ethnic armed groups to counter their government. Conflicts in northern Myanmar bring no good to China. The Chinese side supports Myanmar's national peace and reconciliation, and there is no reason for it to support Myanmar's ethnic armed groups. Peace is the only solution beneficial to both sides.
However, there is the complexity of Myanmar's border line to consider - carved up by governmental forces and ethnic armed groups, the region is seeing rampant criminal activities, for instance the smuggling of drugs, jade and timber and even human trafficking. These illegal activities tarnish China's image in Myanmar, and result in misunderstandings toward Chinese.
On the other hand, clashes bring casualties and property losses to Yunnan, and the influx of refugees affects local trade and living conditions. This has triggered dissatisfaction from some Chinese, who feel they and China are innocent victims of the clashes in Myanmar.
Peace benefits not only Myanmar's development and the welfare of its people, but also the security of China and Chinese people. The conflicts and border security are top of the agenda in meetings between Daw Aung San Suu Kyi and Chinese senior officials. 
During her August trip to China, both sides agreed to further bolster cooperation to ensure peace and stability in border areas. 
China supports Myanmar to realize domestic peace and national reconciliation through political dialogues. Myanmar appreciates China's positive and constructive role and its efforts in supporting Myanmar's course of national reconciliation and peace. 
Myanmar is expected to see rapid growth after realizing peace. 
The China-Myanmar border will be secure and bilateral cooperation will see great improvement.
---
The author is an associate professor & PhD, China Institutes of Contemporary International Relations.