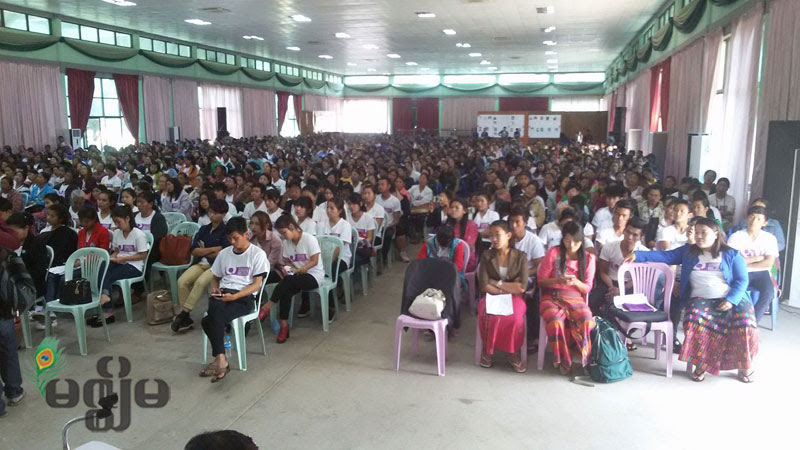 Kachin Women Network led the organising for International Women's Day in Myitkhina, Kachin State, yesterday.
International Women's Day which falls on March 8 was held at Manaw ground, Majoi Hall, Sitapu Ward, Myitkyina under the theme of 'Be brave for women, peace and change of security'.
Toi Gender and Development Foundation In-charge Nan Pu said, "We don't have security here as the war is ravaging Kachin State. Women suffer more so we held this ceremony under the theme 'Be brave for women, peace and change of security'."
At the ceremony Myanmar Affairs observer Khin Ma Ma Myo spoke about security affairs while Advocate and Peace working group committee member Dwe Bu talked about what she was doing as a woman in the peace process.
Nan Pu said that the women in Kachin State lost their rights and security after a trained nurse called Mali Sanpan (23) was brutally killed on February 9 in Kyetpaungchang Ward, Myitkyina.
"Even a nurse was killed in daylight in the city suggesting insecurity for women. Women fear all the time, thinking of what will happen to them, when and how. So we can say women have no security here. Moreover, there are many shortages in services for education and healthcare too so they do not have mental and physical security. They are losing their rights," she said.
Nan Pu added that about 1,500 women from Myitkyina, Waimaw, Sadone, Mogaung, Namti and Shwenyaungpin attended the ceremony.
Kachin Women Network consisting of 16 Myitkyina based CSOs and Women's organisations issued a statement on March 7.
This statement makes four demands including ensuring reservation for at least 30% of women in every sector in building a federal democratic union with full autonomy and self-determination, establishing a Ministry of Women's Affairs in Kachin State and appointing women rights experts, academics and advisors in this ministry, and to promote and carry out the women rights granted under CEDAW Convention.
The statement also calls for immediately stopping sexual violence as a weapon against women, access to justice, to do more for social issues of women such as health (both mental and physical), education and income generation.