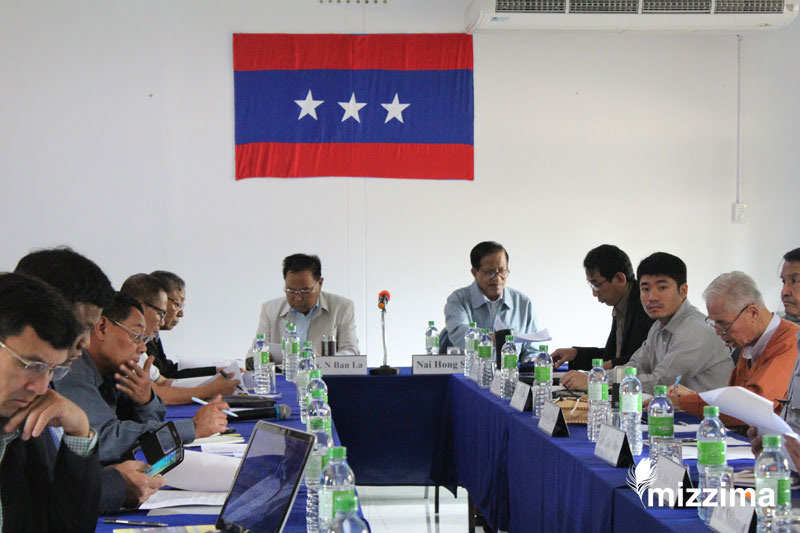 CHIANG MAI, THAILAND -- The United Nationalities Federal Council (UNFC) has agreed to continue political dialogue with the Myanmar government in accordance with the Nationwide Ceasefire Agreement (NCA).
Following an emergency meeting of the group's central executive committee in Chiang Mai yesterday, UNFC Vice-Chairman Nai Hong Sa told reporters that the ethnic bloc had discussed current political developments, and the principles of the so-called "Panglong paper" passed and adopted at the Mai Jar Yang meeting in Kachin State in July 2016.
Those principles covered matters of security and defence; federalism; and the peace process.
"And then we debated on whether to continue our policy of political dialogue in line with the NCA," Nai Hong Sa said. "We have reached an understanding to continue this path, but further details will have to be discussed at a later date."
The UNFC vice-chairman quashed rumours that two members – the Kachin Independence Organization (KIO) and Shan State Progressive Party (SSPP) – would resign from the UNFC. He said that neither group raised such a suggestion, and that they only discussed matters relating to the peace process as laid out in the NCA.
He further said that the UNFC had held this emergency meeting after the recent government announcement to convene the next round of the 21stCentury Panglong Conference – the commonly used name for this current round of peace talks.
Furthermore, he added, members needed a chance to review the dialogue between the bloc's Delegation for Political Negotiations (DPN) and the government's Peace Commission (PC).
The DPN held a coordination meeting on Sunday, 2 April, when it solicited opinions from each member on the format for negotiations with the PC on its nine-point proposal for signing the NCA.
Nai Hong Sa said that there had been some changes to the wording of the nine-point plan at the last meeting of the DPN and PC, in particular to a clause which referred to negotiations being "all-exclusive" of ethnic armed groups (EAOs).
Nai Hong Sa said, "We cannot call for 'all inclusive' dialogue as some of us cannot yet take part in this NCA. That's why we had to make some minor changes."
Nai Hong Sa explained that the UNFC officially retains the principle of the peace process being "all-inclusive" or encompassing all EAOs. However, three members – the Myanmar Nationalities Democratic Alliance Army (MNDAA), Palaung State Liberation Front/ Ta'ang National Liberation Army (PSLF/TNLA), and Arakan Army (AA) – have been excluded from peace talks by Naypyitaw and have subsequently said they will not follow the NCA guidelines.
"Now the AA, the Kokang [MNDAA] and Palaung [PSLF/TNLA] have declared that they will not follow the NCA path. So we cannot call this policy 'all-inclusive' any longer. We have to drop this principle," Nai Hong Sa said.
He further said that the UNFC representatives had agreed with the government's team to continue negotiations, and to include a UN representative in the Joint Monitoring Committee (JMC) in an "appropriate manner".
Yesterday's UNFC emergency meeting was attended by delegates of: Kachin Independence Organisation (KIO); Shan State Progressive Party/Shan State Army (SSPP/SSA); New Mon State Party (NMSP); Karenni National Progressive Party (KNPP); Arakan National Council (ANC); Lahu Democratic Union (LDU); and Wa National Organization (WNO), and included the presence of UNFC Chairman Gen. N Banla; Vice-Chairman Nai Hong Sa; and Secretary Khoo Oo Reh.
Discussions continue on 4 April.