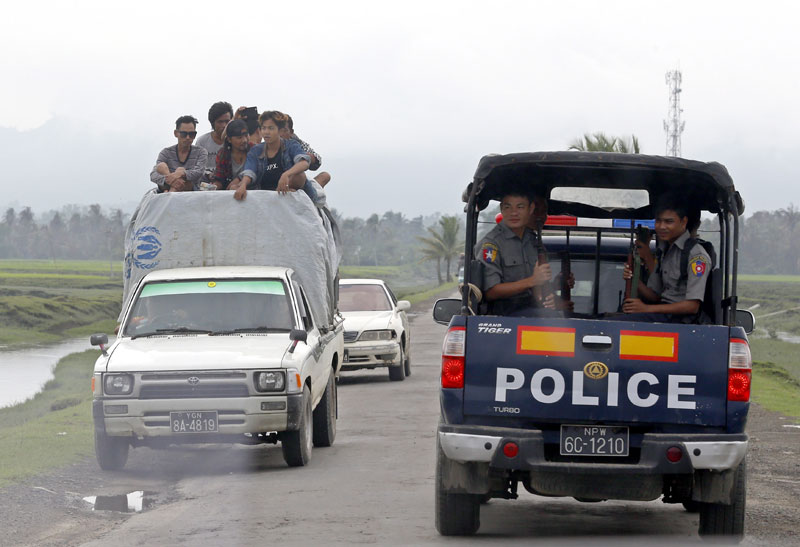 Rohingya refugees arriving in Bangladesh amid a fresh exodus from strife-torn Myanmar have described whole villages being emptied and thousands marching to the border as security forces redouble efforts to drive remaining Muslims from their homes.
More than 500,000 Muslim Rohingya have fled ethnic bloodshed in Myanmar in the past month and numbers are again swelling, with Bangladesh reporting 4-5,000 civilians now crossing the border each day after a brief lull in arrivals.
An estimated 10,000 more have reportedly massed in Myanmar near a crossing point into Bangladesh, and are poised to join the hundreds of thousands of mainly Rohingya refugees eking out survival in wretched camps over the border.
The spike in new arrivals -- prompted by what Rohingya say is a fresh drive to purge Muslims still in westernmost Rakhine state -- casts doubt on a Myanmar proposal aired this week to start repatriating the persecuted minority.
Rakhine has been emptied of half of its Rohingya population in weeks, and more are on the move as insecurity presses them to leave villages that have so far been spared the worst of the violence ripping through the state.
Rashida Begum, who arrived in Bangladesh late Monday, said local officials assured the Rohingya community for weeks that they would be safe if they stayed back in their villages.
"(But then) the army came and went door to door, ordering us to leave," she told AFP of the military sweep in Maungdaw on Friday.
"They said they wouldn't harm us, but eventually they drove us out and burned our houses."
Begum, 30, fled with her daughter to the coast, where hundreds of Rohingya waited to cross the Naf River dividing Myanmar and Bangladesh.
Myanmar state media said the fleeing Rohingya had left "of their own accord" despite assurances they would be safe.
"I wanted to stay in my village," Hasina Khatun, 25, told AFP in the coastal border town of Shah Porir Dwip.
"They (local officials) said 'don't go to Bangladesh. Everything will be fine'. We believed them, but nothing improved. Eventually we had to leave."
Sumaya Bibi, a softly-spoken Rohingya teenager, described more than a thousand civilians hiding along the riverbank late Monday.
She said they boarded about 10 wooden fishing boats, many overloaded and carrying mainly women and children, and drifted under the cover of darkness across the Naf where they washed up on a remote beach.
Reports are difficult to independently verify due to reporting restrictions in Rakhine.
The Bangladesh government said Wednesday that coast guard and security forces had arrested 39 people accused of charging exorbitant fares to ferry fleeing Rohingya across the Naf in night-time raids.
An official told AFP that boat owners had been charging as much as $250 per head for the hours-long boat ride from Maungdaw to Shah Porir Dwip which normally costs around ten dollars.
The UN said Tuesday that 509,000 refugees had crossed into Bangladesh as of September 30.
© AFP