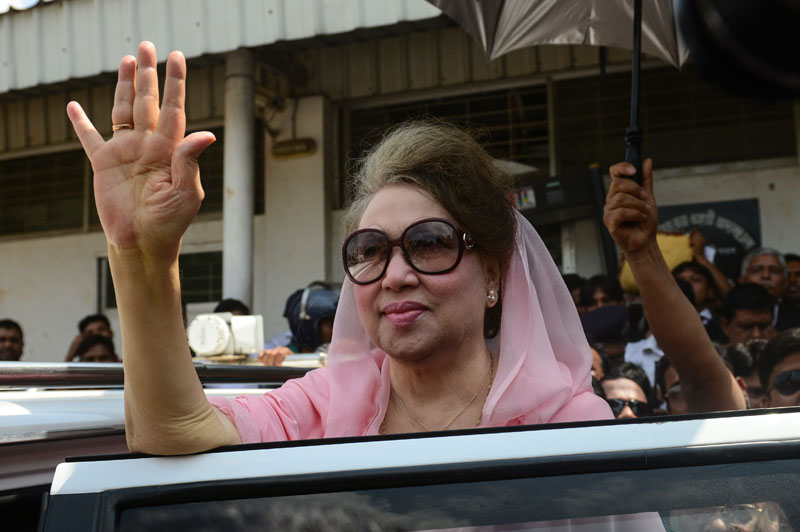 BNP Chairperson Khaleda Zia has urged the Myanmar government to take back Rohingyas from Bangladesh for the 'sake of humanity'.
The former prime minister's call came on Monday during her visit to the refugee camps in Cox's Bazar, when she also blamed the government for failing to take proper diplomatic efforts to send the Rohingyas back.
More than 600,000 Rohingyas, mostly Muslims, have fled Rakhine state in Buddhist-majority Myanmar since security forces responded to Rohingya terrorists' attacks on Aug 25 by launching a crackdown.
Bangladesh initially kept its border closed after violence broke out in the western Myanmar state, but later opened it to Rohingyas on humanitarian grounds.
Bangladesh was already home to at least 400,000 Rohingya refugees over the last few decades before the latest colossal exodus.
Urging Myanmar to take back its citizens, Khaleda called on the government and international organisations to strengthen diplomatic efforts.
"I would ask the international bodies, including the UN and the OIC, to step up diplomatic efforts to solve this crisis," she said while speaking to the media after distributing aid at a refugee camp in Cox's Bazar's Ukhiya.
The BNP chief blamed the government for failing to stand by the Rohingya refugees. "Moreover, it created obstacles for those who wanted to work for them."
Khaleda, who served as a prime minister twice, said the Rohingya crisis can be solved by diplomatic efforts.
During her 1991-96 term, Bangladesh signed a repatriation agreement with the then military regime of Myanmar in 1992, following which 236,599 Rohingyas returned to their homeland.
But another 2,415 were denied entry even after meeting the criteria under the arrangement.
Courtesy bdnews24.com, edited for style
https://bdnews24.com/bangladesh/2017/10/30/khaleda-urges-myanmar-to-take...