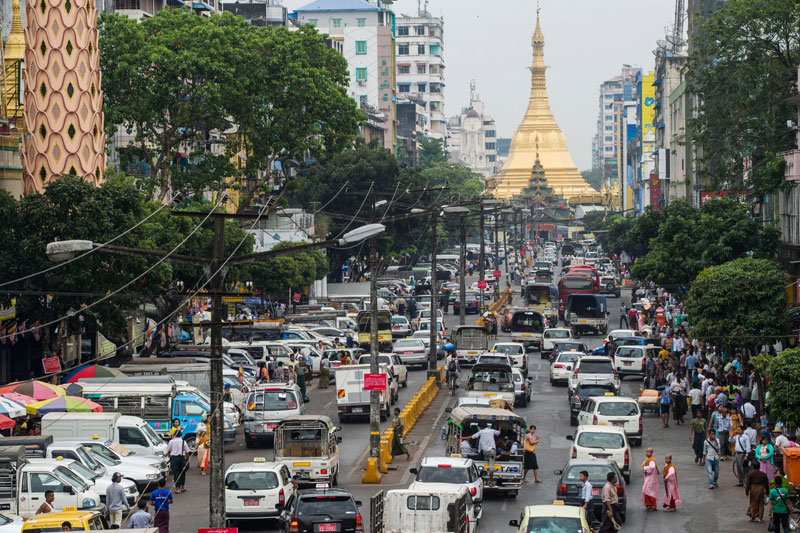 The just published periodic report of the World Bank viz., Myanmar Economic Monitor 2017 (MEM for short)  presents an optimistic scenario on the current economic developments, though cautioning on the possible effects of the security situation in the Rakhine state that may create a dampening effect on the future outlook, particularly on overall investor confidence and access to global markets and on sectors like tourism, transport and hospitality.
Be that as it may, there are some positive features that can be seen on the macroeconomic management front.  Even while growth numbers fell short of the projections, the country has experienced overall macroeconomic stability during the past one year compared to 2015-16 when the transition of power took place.  Macro numbers like inflation, balance of payments and budget deficit were in manageable levels and show a positive trend. However,  the productive sectors of the economy viz., agriculture and industry still needed to be recovered  from the slowdown that they experienced in 2015.  This would mean that it is the private consumption which accounts for 50% of the GDP that is propelling the growth of the economy.
MEM acknowledges the effort of the government to allocate more resources for social sectors like education and health and for agriculture and rural development, however it identifies the challenge of the line ministries in executing the budgets which is due to lack of capacities at the ministerial levels and at the field level.  This is one area that can be plugged through a systematic administrative reforms and governance reforms.  It is to be noted that as per cent of GDP Myanmar's spending on education and health is still quite low.
MEM exhorts the government to continue maintaining fiscal discipline but not through contraction of expenditure but through greater efforts towards revenue mobilization, improving spending efficiency, reprioritization and efficient borrowing.  These are significant suggestions as the economy and developmental needs require more public spending at this stage of take-off.
MEM also identifies the need to take up long-haul reforms in the areas of financial sector, energy sector and business regulation.  These are some of the areas that require careful calibration of short-term gains and long term objectives and the growth trajectory of the country.  There would be social, economic and environmental costs as of these reforms and they need to be weighted in carefully. For example the energy master plan of the country projects a 30% share of coal based energy production which would mean significant implications for the country's environment.  Similarly entry of foreign entities in financial sectors like insurance would also have implications for the overall economy.
Two areas of significant mention that MEM identifies as special topics and discusses in depth are on regional growth and jobs (employment).  These are significant as they define the contours of the future long term development of the country as well as the human resource deployment in a more efficient and effective way to generate significant growth and development.
On the regional development front, MEM rightly points out the classical trajectory of lack of convergence of growth among states/regions.  The growth story of Myanmar  is dominated by urban (Yangon) and agriculturally dynamic dryzone.  Variation in per capita income across states and regions is also very high.  Conflict affected Rakhine, Kachin and Shan show low growth compared to other areas.  these tendencies point towards the need to develop policies that accommodate regional specificities and provide specific locally relevant policy stimulus for growth and development. Need based public investments and redistributive fiscal transfers are critical for inclusive development.  Growth pole approaches and comparative advantage of the regions/states in terms of resource endowments have to be taken into consideration for developing long term strategies.  Regional / state governments' role in policy development and execution and their contribution need to be accorded priority which is also linked to larger reforms related to decentralisation.
Myanmar's demographic dividend of having higher proportion of population in younger cohorts is an advantage to be harnessed.   Formal sector employment in Myanmar is relatively low at 11%.  A large proportion of work force is in informal sector and in precarious jobs.  Added to that, productivity in agriculture and secondary manufacturing sector is very low compared to the regional average.   A total of 5% labour force is covered with social security benefits.
All these point out the need for policy reforms in the employment sector.  More quality and formal jobs are fundamental to the growth of the economy and welfare of people. MEM points out that Myanmars' workers need to be equipped with skills and knowledge in order to participate in the global value chain particularly catering to the export oriented production sector as well as in the international labour market (through migration).   Promotion of SMEs is also a significant way of expanding formal sector employment.  Diversification of agriculture, support to household enterprises are also important to enhance quality of jobs.
MEM points towards an overall positive outlook for the country which is at the cusp of economic transformation.  With the current stability on the macro economic front, the momentum of medium and long term reforms need to be carried forward so that development benefits reach the large sections of people.  One hopes it would work towards peace and national reconciliation.
*The author is a development economist