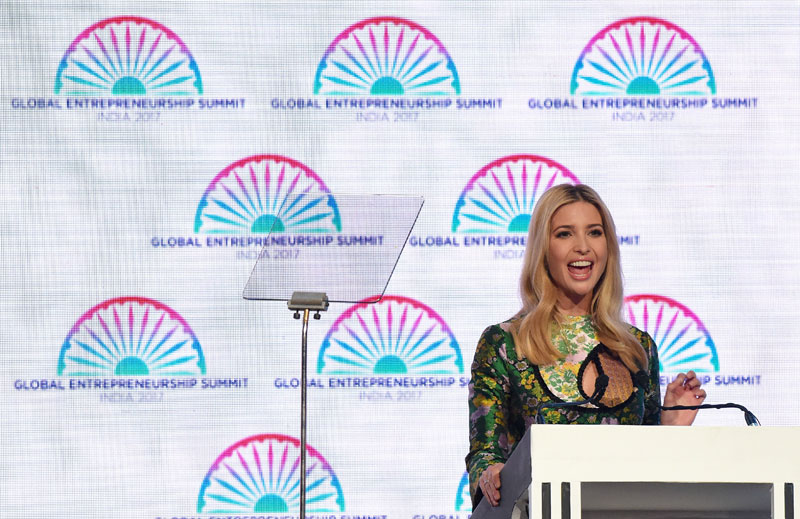 Biases in the workplace need to be addressed in order for women to play a fuller role in the workplace around the world.
This was one of the messages to come out of a session under the theme "Women First, Prosperity for All" during the 8th edition of the Global Entrepreneurship Summit hosted by NITI Aayog in partnership with US government in Hyderabad, India.
The three-day summit was inaugurated by India Prime Minister Narendra Modi and Ivanka Trump, acting as advisor to US President Donald Trump, on Tuesday.
In the plenary session on the issue 'Innovations in Workforce Development and Skills Training' on its second day, the session "Women First, Prosperity for All" looked at ways to boost female participation in the workforce through increased access to skills, training, education and career counselling.
The summit,  attended by 1,500 entrepreneurs from 170 countries, has around 350 participants from the US, a large number of whom are Indian-Americans. Women represent 52.5 per cent of the entrepreneurs, investors and ecosystem supporters at the GES 2017, according to local media. The event included three delegates from Myanmar.
The opening ceremony of the summit was addressed by Ms Ivanka Trump, who praised Modi for his leadership saying, "What you are achieving here is truly extraordinary, from your childhood selling tea to your election as India's Prime Minister, you've proven that transformational change is possible."
Ms Trump, who is leading a high-level delegation of American women entrepreneurs, is in India for the three-day summit.
Ms Trump addressed the plenary session on the topic 'We Can Do It! Innovations in Workforce Development and Skills Training', which was moderated by Minister for IT E&C KT Rama Rao and also attended by ICICI Bank, Managing Director and CEO, Chanda Kochhar, Cherie Blaire, and Karen Quintos.
Indian PM Modi highlighted the importance of the summit which focuses on women empowerment.
 "The theme, 'Women First, Prosperity for All' makes this edition of GSE stand out. In Indian mythology, woman is an incarnation of Shakti- the Goddess of power. We believe women empowerment is vital to our development," PM Modi said.
"Women make up half of the world's population. We need to think of these issues not as women's issues but human issues," said Ms Trump, who is the daughter of US President Trump and a businesswoman.
She told the audience she was excited about the work that was being done internationally to create opportunity for the entrepreneurs.
Ms Chanda Kochar spoke of the need to create an environment which empowers women.
"We don't have special policies for women. But we focus on creating a work environment for women, so they feel confident that it's on the basis of their merit they rise."
She spoke about the factors that would help women participate more fully in the workplace.
"It's the desire, support and ecosystem of the organisation where women work that will help them break the glass ceiling. Recognition of work keeps us going," Ms Kochar said, referring to the Indian work context.
Cherie Blair stressed the importance of women building confidence in themselves.
"Women need the 3C's Confidence, Capabilities, and access to Capital," she said, noting that men need to understand that "women are their equals."
Dell EMC, Chief Customer Officer, Karen Quiontos said, "The biases that exist in society have to be addressed, and men need to be a part of that conversation. Business outcomes are great when you have diverse thinking."
Chanda Kochhar said that not even 25 percent of graduate women in India participate in the workforce. However, the Indian workplace is changing to allow women to start their own careers.
"Now we have more female sports stars, pilots, navy, ministers and bankers," she said.
Ms Quintos spoke about Dell's initiatives to support women into leadership roles at Dell.
Women need to "stay the course" when the road to success gets tough, she said.
Reporting by Mizzima with additional input from Indian Express