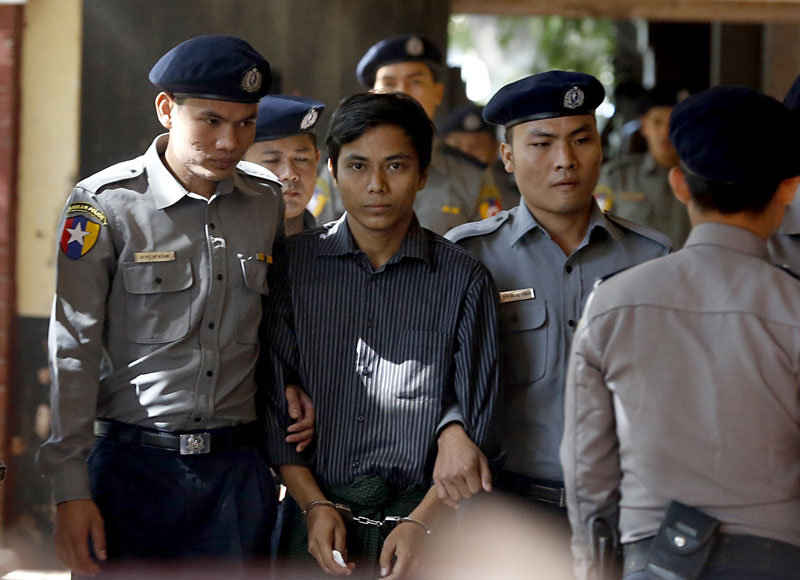 A court will decide whether to bail two Reuters journalists accused of breaching Myanmar's secrecy law on February 1, their lawyer said Tuesday, raising fears the pair could otherwise face months in detention during convoluted pre-trial hearings.
Wa Lone, 31, and Kyaw Soe Oo, 27, appeared in court Tuesday nearly six weeks after their arrest under the Official Secrets Act.
The pair are accused of receiving classified documents by two policemen over dinner. They have been held in custody since their arrest on the British colonial-era charge, which carries up to 14 years in jail.
Pre-trial hearings are likely to take up to three or four months, Reuters lawyer Khin Maung Zaw said Tuesday, as the reporters faced their latest court hearing.
The lawyer's request for bail was blocked by the prosecution on Tuesday afternoon and the court said it would decide on the matter on February 1.
As the pair were led from the packed courtroom, a handcuffed Kyaw Soe Oo shouted to the assembled media "please try to get press freedom."
The pair were formally charged by police on January 10.
The charge is not a bailable offence, but the court has discretion to grant bail if detention is deemed to be unlawful.
Under Myanmar's arcane court procedure the Yangon court will next consider whether to accept the charge and begin the trial of the pair.
Their lawyer said 25 witnesses have to be heard -- staggered over weeks -- before the court decides whether to pursue the case.
That could leave the reporters languishing in detention for several months.
Reuters denies any wrongdoing on behalf of the reporters whose arrest has garnered outrage among the international community.
© AFP