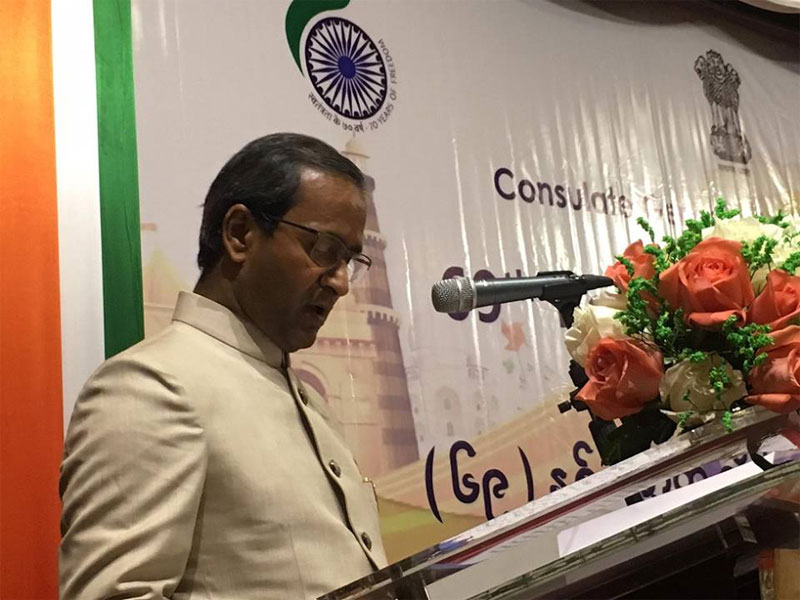 Last week, India celebrated their 69th Republic Day on 26 January and hosted government representatives from the ASEAN nations in New Delhi. 
In Mandalay, Myanmar, H.E. Nandan Singh Bhaisora, the Indian Consul General spoke to a gathering of dignitaries about the relations and ties between India and Myanmar. 
The following is his speech: 
"It is indeed an honour and privilege for me to address this distinguished gathering. May I extend, on behalf of the Indian Consulate a very warm welcome to all of you; thank you for joining us this evening to mark the 69th Republic Day of India. 
Sixty nine years ago, on this day, India adopted the Constitution which laid the foundation of the biggest democracy of the world and today it is the largest practicing democracy in the world. Constitution of India is also the most exhaustive  document of its kind in the world which envisages a parliamentary form of democracy, federal in character. On this day, the Indian people gave to themselves a Constitution to secure for all its citizens, justice, liberty equality and gender and economic equity. Despite a number of social and political challenges  that India has been facing during all these years, it has made its own mark in almost every field. 
Our country has lots of diversities and with so much diversity, it would not have been easy to achieve this progress.  Credit goes to our national leaders who clearly understood and upheld from the very beginning India's core stand of unity in diversity. Our composite culture has made India truly a democratic country where unity thrives in diversity. Today also reminds us to stand united to face the challenges and to keep the integrity and dignity of our country  high. 
India and Myanmar share close geographic proximity and deep historic, cultural, religious, linguistic, ethnic and civilizational ties that go back to the dawn of history.  Traces of Indian influence – both Hinduism and Buddhism can be seen here; Emperor Ashoka is credited with the establishment of numerous pagodas and temples all over  Myanmar. As the land of Lord Buddha, India is a country of pilgrimage for Myanmar.  There is a deep sense of kinship particularly among the Buddhist community, given India's association with Buddha's life. In the present day, we have seen close ties having been established between our first generation of national leaders from U Uttama to Gen Aung San and Prime Minister  U Nu from Myanmar and Mahatma Gandhi and Pandit Jawaharlal Nehru from India.   
Excellency we have travelled a long way in our bilateral partnership. Our bilateral relations are warm, cordial and multi-dimensional – be it in the field of trade & commerce, defence, security, culture, consular, development cooperation, human resource, hydrocarbon etc. The bilateral relations have been further strengthened by the regular exchange of visits within the last five/six years, at the highest level.  Tonight while we are celebrating our National Day here, Heads of all the ASEAN states including the State Counsellor Madam Aung San Suu Kyi are  the Chief Guests in Republic Day function in New Delhi while they are there in connection with Asean-India Commemorative Summit. Both the leaders had discussions on Wednesday on various issues of mutual interest, including follow up on key decisions taken during his visit  last year. 
The visit of our Prime Minister Shri Narendra Modi last month has taken our bilateral relationship to much greater heights. Leaders of both the countries  have reviewed the ongoing official exchanges, economic, trade and cultural ties as well as people-to-people exchanges ; they also reaffirmed their common aspirations for peace, collective prosperity and development of the region and beyond. Our Prime Minister also appreciated the measures taken by the Govt of Myanmar towards peace and national reconciliation and commended the on-going peace process. We stand fully committed to support the Myanmar Government  in its ongoing national reconciliation &  peace process under the 21st Century Panglong Conference.  Without peace & stability, development cannot take place. We greatly welcome the transition taking place  in Myanmar within the democractic and pluralistic frame work.
A number of MOUs/Agreements have been signed during his visit in the field of health, education etc which include Maritime Security Cooperation, Cultural Exchange Programme, Enhancing cooperation of the Upgradation of the Women's Police Training Centre in Mandalay Region,  Extension of MOU on the establishment of MIIT in Mandalay Region, agreements between Election Commission and Press Councils of both the countries etc.
Today India is one of the fastest growing major economies in the world. In the last 3 years our Government has undertaken a number of initiatives and introduced a series of reforms to improve the business environment in India. Most recently, India has launched the GST (Goods & Services Tax), the biggest tax reform since our independence. These steps have opened new opportunities for trade & investment into India. The string of these economic reforms have fetched $ 60 billion Foreign Direct Investment in 2016-17. Companies from Myanmar can also take advantage of these opportunities for investment in India – particularly North East India. Today India is changing; India is transforming; India has moved far ahead and Indian hopes are at the top; change can be seen in every sphere. In World Bank's Ease of Doing Business Report, 2018, there is a significant jump in India's ranking from 130 to 100; which is the outcome of all round and multi-sectoral reform push of Team India. It has never been easier to do business in India.
On the other hand, the new wave of political/economic reforms have set Myanmar on a road to unprecedented economic expansion.  The opening of the country to global market is strengthening commercial relations.  There has been a significant growth in our economic and commercial ties.  The bilateral trade between India and Myanmar has crossed USD 2.178  Billion during 2016-17, border trade has crossed USD 75 (76.41) Million dollar (2016-17).  Total trade for first nine months this year is $ 958 million and border trade  US $ 55 million. India is presently 10th largest investor with an investment of more than USD 740.64 million by 25 Indian companies, mainly in oil & gas sector. Myanmar is an integral partner in India's energy relations with other countries. Cooperation in banking sector has played a large role in the growth of trade & investment  between two countries.
Myanmar has a strategic location, abundant natural resources, large number of human resource- young population and it is the only ASEAN country that shares land boundary with India.  It is suitably placed to develop market linkages with India particularly its north-eastern regions.    Myanmar is India's gateway to ASEAN/ BIMSTEC and key to New Delhi's Act East Policy. India seeks to be a good neighbour of Myanmar as part of our Prime Minister Modi's "Neighbourhood  First" policy- connecting with vast untapped market of ASEAN countries,  where Myanmar has a key role to play in our "Act East Policy".   Similarly, India is Myanmar's window to the Western world.  Our Prime Minister has been laying special emphasis on engaging and developing North East states to improve upon infrastructure and human resources of the region in a bit to connect with the rest of the ASEAN countries.    India is the fastest growing major economy with GDP growth of 7 % in 2015-16.    Myanmar has a positive outlook for future and is likely to grow by 6.8% this year.
India is strongly committed to meeting Myanmar's developmental needs through development projects, including  provision of expertise, grants in aid; technical and financial assistance for projects in infrastructure, capacity building, training of defence officers, emergency relief, setting up institutes like MIIT, ITCs;  some of the ongoing infrastructural/ connectivey projects are Kaladan Multi Modal Transit Transport Project, Trilateral Highway Project, Renovation of 69 Bridges in Tamu- Kalewa Road, Upgradation of Kalewa-Yargyi Road, Sittway Port etc. Six general cargo vessels of the capacity of 300 tons were handed over  to Myanmar in June 17 costing 10.5 billion kyats. India has also pledged US $ 25 Million for development of Rakhine for socio economic upliftment of the people; relief supplies have also been sent there.  Number of  ICCR scholarships for studemts and ITEC slots are being given .  GOI is working for restoration of the Ananda temple in Bagan.
India shares a border of more than 1600 Km   with Myanmar. A large number of  Indian community from North Eastern Region  is in Myanmar. People to people contacts need to be fostered to keep alive our common Buddhist heritage  and also facilitate movement of people across land borders of two countries. There is lot of activity and lot of exchange of visits taking place on both sides of the border  including the ongoing visit of Manipur football Team, interaction between business & media delegations of both countries, border trade, tourism including  medical tourism; dance troupes- cultural . We need to make it simpler for the people to cross the border via land route. So Keeping in view this, as per media reports, Indian Cabinet, on 3rd January  has approved an agreement to facilitate border crossing between India and Myanmar on the basis of valid passports and visas which will enhance economic and social interaction, boost trade, tourism, people to people ties. Thus we, on our side, remain  fully committed to givng our best for this relationship."