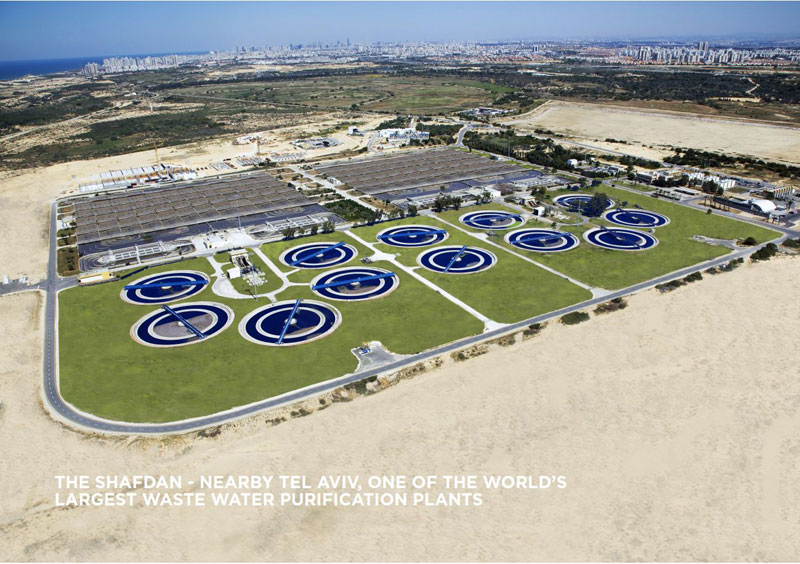 In recent years, we hear a lot about climate change and the effect it will have – and already started to have – on our life, especially on water and, as a result – on agriculture. This means that the world needs to be ready for the production of the food needed for its population, i.e. food security – in more difficult conditions, with necessary adjustments to the changes. This situation is giving an advantage to those countries and societies already confronting such difficulties, in arid zones, with a shortage of water resources, like the conditions existing in Israel. In this article, we shall describe some of the ways through which Israel is overcoming scarcities of water.
Israel, also known as the Land of Milk and Honey, is 60% desert. The demand for water is much higher than the quantities of natural water reaching the area; and yet despite this, and despite a rare sequence of a five-year drought, it ended 2017 when the supply of water to all houses and cities was not affected. How was this achieved? By implementing a holistic approach to the water sector that encompasses robust innovation, forward-thinking policy and increased consumer awareness, Israel overcame its water shortages and emerged as a world leader in water management and technology. This is the story of Israel's water miracle, and how its experience can help other countries facing water scarcity around the globe.
            The Land of Israel, located in a semi-arid climate zone,  is historically highly dependent on rain, which falls almost exclusively in the winter months between October and March. For thousands of years, the geography, agriculture and the well-being of its inhabitants have been highly affected by water scarcity. Population growth in recent decades was poised to exacerbate the problem by deepening the gap between demand and the supply of renewable fresh, natural water (RFNW), which comes mainly from the aquifers and Israel's only body of freshwater, the Sea of Galilee. Thus, proper management of water resources, along with significant investment in technology, became a top priority for Israel. 
For a start, in the 1960s and 1970s Israel dramatically enhanced its water infrastructure. One major project was building a National Water Carrier to bring potable water from the Sea of Galilee in the north to the arid lands in the south which is 250 km distance. During those decades, only natural potable water was used for drinking, irrigation, industry and personal use. Since large amounts of natural potable water was limited, the government launched consumer campaigns to educate the public in water conservation techniques. Soon enough, groundbreaking technologies such as drip irrigation, rainwater collection and water-leakage detection systems were invented in Israel to enhance Israel's water efficiency.  
            Another technological breakthrough for Israel was creating ways to reuse vast amounts of water. In 1985, Israel began to use treated wastewater for agriculture and constructed new regional water grids for recycled water. Today, over 85% of Israel's wastewater is recycled – ranking Israel as the number one water recycler in the world.
Since 2005, Israel has also launched one of the largest sea water desalination programs in the world. Five large desalination plants along Israel's Mediterranean coast produce some 650 million cubic meters of potable water through reverse osmosis. As of 2017, 35% of Israel's potable water comes from desalination, and Israel plans to steadily increase the percentage of desalinated water supplying total demand to 45% by 2025.
Good management has greatly contributed to Israel's water success.  Over the years, Israel set up the legal and regulatory framework necessary for an efficient water sector. In 2007, the Water and Sewage Authority was created as a kind of "one-stop-shop" for managing all water issues: water conservation, reuse, quotas, desalination, agricultural, consumer education and smart-city technologies all come under its purview.
Israel's advanced water technologies also help the international community to deal with growing water scarcity and water quality issues. Water rights, as well as access to clean water, are major challenges faced by populations across the world. According to UNICEF, 2.1 billion people do not have access to safe drinking water. As our climate changes and natural water resources decrease, more people and countries will face water scarcity issues like Israel. Already, Israeli initiatives such as MASHAV bring water technologies to developing countries and teach safe water practices around the globe. Israel has signed MOUs (memorandums of understanding) with numerous countries and has adapted water technologies in, among others, China, India, Mexico, Italy, Brazil, South Korea, Russia, Canada and the United States.
Israel Government and Israel companies are actively working in Myanmar in order to implement some of these principles and technologies. We are more than happy to share our solutions with the authorities and the people of Myanmar.
H.E. Mr Daniel Zonshine is Israel's ambassador to the Republic of the Union of Myanmar