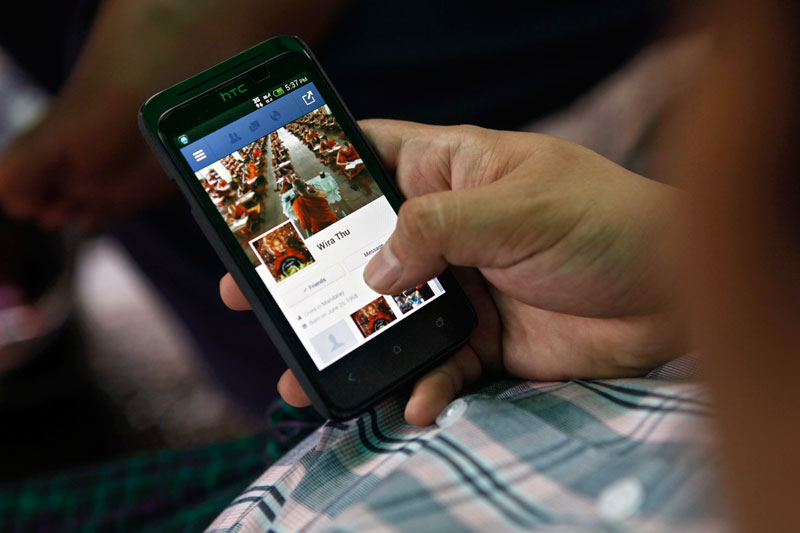 It is easy to be cynical about mobile phone companies. Their raison d'etre is to make hefty profits, right? But there is a whiff of social change to the outreach of Telenor and Ooredoo as they head up country in Myanmar on a mission to put a mobile phone – or at least a SIM card – into the hands of 40 to 50 million people during the next five years.
As we mention in a story in this issue of Mizzima Weekly, the mobile phone business is booming in the developing world, an outreach that is accelerating as costs come down, technology improves, and those without mobile communication clamour to buy a cellphone and be connected.
Myanmar is proving an exciting market for the two main players who have been pumping out promotional material and events in Yangon and Mandalay and are busy reaching out to smaller towns and cities upcountry.
In today's world, the telecom chief executive officer does not stay locked up in an air-conditioned office but joins his team out in the villages and fields. One such hands-on guy is Telenor Myanmar CEO Petter Furberg, who seems happy to dress up in the company blue and meet new and potential customers throughout the country.
High flyers such as Mr Furberg are convinced they are doing a social service. And indeed they are. Mobile phones are becoming more than a device to call a loved one or cement a business deal. They are facilitating a whole range of services, including internet connections with smartphone models, online banking, providing market prices of farm produce and other commodities, weather forecasts, useful snappy apps and schmoozing on social media. They are bringing the comfort and convenience of regular conversation to family members and friends who live far apart. They will help to empower farmers by keeping them up to date with market trends. In many ways mobile telephony is part of a revolution in how we live, love and support our families and businesses.
The change in Myanmar is telling. The country's mobile phone ownership was dismal only a few years ago, with three percent coverage and SIM cards costing exorbitant amounts beyond the reach of the mass market. Now coverage is up to 30 percent and a SIM retails at a mere K1,500. How times have changed.
The uptake of mobiles in Myanmar will happen much faster than in neighbouring Thailand almost two decades ago. Boonchai Bencharongkul, the chairman of DTAC, Telenor's partner in Thailand, was hard-pushed to convince Thai farmers to buy the mobile dream. Back then, only seven percent of the Thai population had mobile phones. Almost every weekend, the millionaire businessman was out in the rice fields – sometimes literally in water up to his knees – planting rice and mixing with his future customers. It was something of a passion for him. Mr Boonchai went that extra mile and the reward for DTAC was a period in the early 2000s when it was signing about 30,000 customers a day.
There is little doubt that farmers in Myanmar will soon be dipping into their pockets to buy a phone and a SIM card. The growth in uptake is already phenomenal and both Telenor and Ooredoo are busy erecting transmission towers throughout the country and supplying shops with SIM cards and attractive promotions.
The bottom line is that mobile phone companies need to make a profit and shareholders clearly want to see a demonstration of that. But the profit-driven drive to connect 90 percent of Myanmar's citizens – and give them all the added useful applications – can be regarded as an essential social service. It is one that will make a significant change for the better to many people's lives.
---
This Article first appeared in the March 12, 2015 edition of Mizzima Weekly.
Mizzima Weekly is available in print in Yangon through Innwa Bookstore and through online subscription at www.mzineplus.com