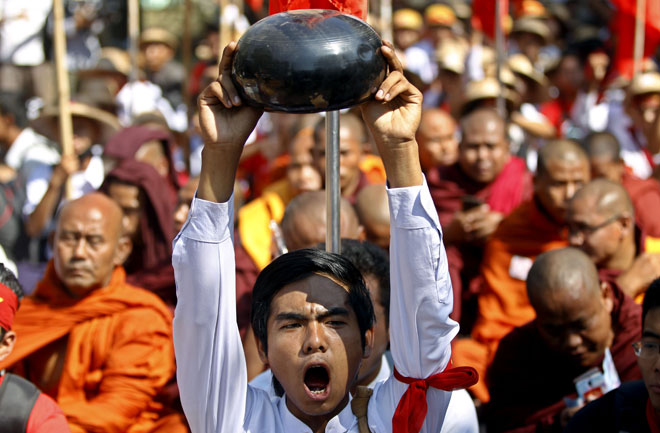 More than 100 monks and student protesters in Myanmar began a hunger strike over education reform March 3 as police blocked their march to the commercial capital Yangon.
Students have been marching from Myanmar's second-largest city of Mandalay and two other cities since January, demanding changes to a recently passed education law.
The demonstrators spent the last 10 days in Letpadan, about 145 kilometres north of Yangon.
They were planning to resume their rally on March 2 but more than a dozen police vehicles, including a water cannon truck, arrived outside the monastery where they were staying.
Police said they would not allow the march to enter the Yangon region.
The government warned the students last week that if they continued with the protest, action would be taken "to maintain law and order, security and tranquility."
The protesters are demanding independent student and teacher unions, changes to university exam and entrance requirements, the introduction of ethnic minority languages and the modernisation of the national syllabus.
After talks with student negotiators, government representatives agreed to amend sections of the National Education Law in early February, but the changes have yet to be approved by parliament, and the students decided to continue their march.
Hearings on the bill are expected to take place later this week, according to parliamentary officials.
© DPA