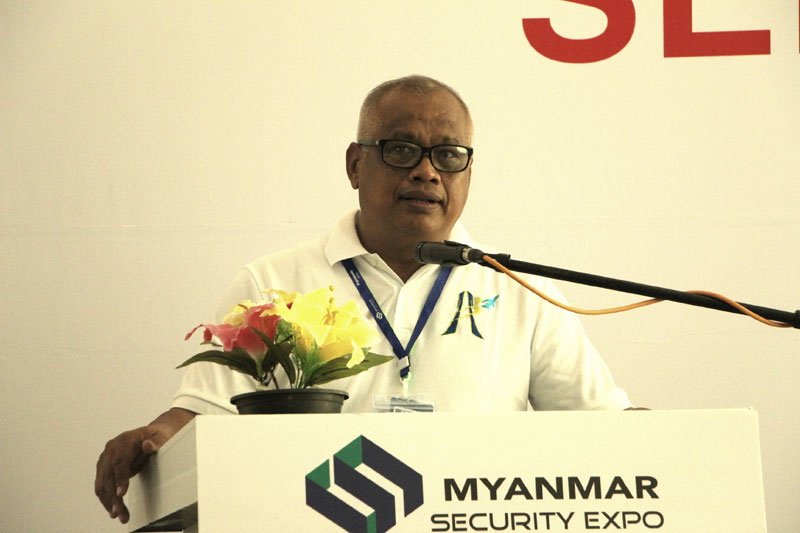 Myanmar needs better business and online security systems, according to participants at a security conference being held in Yangon.
The first ever security exhibition in Yangon started yesterday. The Myanmar Security Expo will be held for 3 consecutive days from 30 September to 2 October at the Myanmar Convention Centre in the country's economic capital.
Myanmar which currently holds 'least developed nation status' by the UN will post higher growth of 7.8% in both FY2014 and FY2015 according to estimates from the Asian Development Bank.
As the economy of Myanmar starts to power up, demand for surveillance products and services, perimeter security solutions for the protection of properties and facilities will grow. The Myanmar Security Expo is the most important business platform for international suppliers to interact, network and showcase their security products and solutions to Myanmar.
"Everybody sees a very promising future in Myanmar. You can see the difference three years ago and now, everybody is talking about Myanmar in Asia, especially in South East Asia. It's opening up and [there is] a lot of potential to do business in Myanmar." Said Steve Leong, sales manager of L3 Security and Detection System for South East Asia region.
U Win Tun Oo, the managing director of Myint Thukha Nadi Aviation and Technology agreed, "A lot of investments are coming here and in to the financial sector, commercial sector, and business sector. There's a lot of growth here. They need security systems."
 "The launch of Myanmar Security Expo is timed to enable international security and safety product manufacturers, consultants and system integrators to reach out to property developers, commercial and industrial building owners, mine owners, oil & gas companies, airport operators, banks, hoteliers, and any companies who need to secure their data and facilities. We see great opportunities and wish to encourage international players to join us to explore this emerging market," said Mr Jason Ng, Executive Director, MP Singapore Pte Ltd, the organiser of Myanmar Security Expo.
There are 46 booths which host some 100 international and local exhibitors and an expected 5,000 trade and professional visitors will visit the Expo. There is a VIP/Media Lounge and also a seminar room where a series of discussions and presentations will be held during the three-day event.
After an interesting presentation of Digital Two-Way Radios Technology, Heah Boon Teik, the senior channel manager of the government and public safety department of Motorola South Asia spoke to Mizzima about their collaboration with the Ministry of Home Affairs, Myanmar.
 "Our most important customer in Myanmar is the Ministry of Home Affairs. We actually deploy a P25 system here. I would say that by being at this event, Motorola is showing our presence and our interest in the Myanmar Market."
He also foresees the future success of government agencies in Myanmar using Motorola digital communication systems as a replacement for the old analogue systems.
"In the future, I would say, goingdigital is the right step for the government. Various Home Affairs Agencies with the ability to communicate efficiently with digital systems will help the nation as a whole."