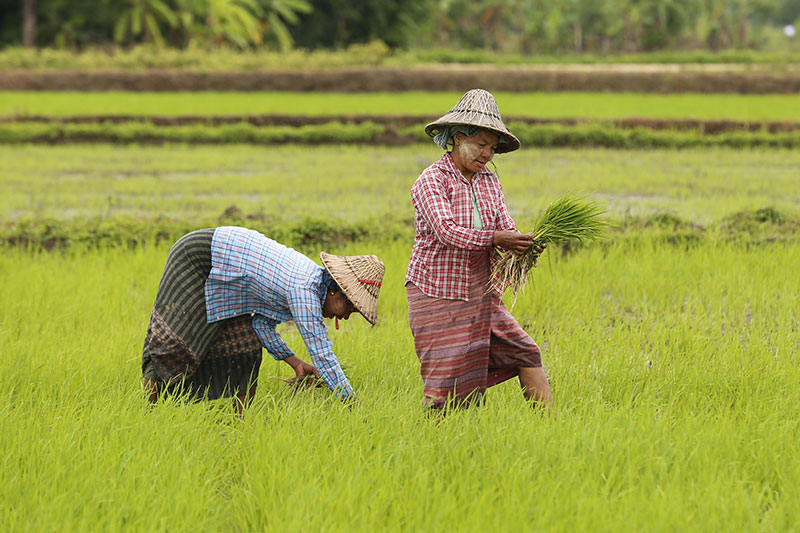 IFC, a member of the World Bank Group, with support from the Department for International Development (DFID) of the United Kingdom, the Australian Department of Foreign Affairs and Trade (DFAT), and the Government of Japan, is working with the Department of Agriculture of Myanmar's Ministry of Agriculture, Livestock and Irrigation (MoALI) to implement the Agriculture Inputs Reform Project. The aim is to boost productivity, increase incomes and improve skills, knowledge and quality in the agricultural sector, IFC said in a statement.
At a one-day workshop on Good Agriculture Practices (GAP) organized by IFC and MoALI in Nyuang Shwe, 300 participants — including 200 tomato farmers — discussed how to improve and reduce the use of chemicals on their floating farms on Inle Lake. The event, a consequence of IFC's efforts to support GAP and protect Inle Lake, was aimed at seeking solutions for improved sustainable agricultural practices and ensuring the lake continues to be a leading source of income for local residents.
As a major cash crop, tomato farming on the lake has triggered increased use of fertilizers and pesticides, having long-term impact on the water quality. In addition to farming and fishing as key local industries, around 252,000 international tourists and 400,000 domestic tourists visited Inle Lake in 2016, thus generating incomes and jobs for local residents. Protecting the lake, therefore, is important for a sustainable growth in tourist arrivals.
"Most farmers have poor knowledge about using pesticides in a safe and sustainable manner. They are known to mix chemicals with their bare hands. This not only triggers potential health risks, but also pollutes the water and soil, which in turn can contaminate the plants and fish," said Dr. Ye Tint Tun, Director General of Department of Agriculture. "Hence, it is imperative for farmers to learn how to use chemicals sustainably. MoALI is supporting the implementation of GAP for tomato farmers on Inle Lake so that farming, fishing and tourism continue to provide livelihoods to people of this area."
The workshop shared experiences of farmers participating in the GAP program to reduce use of chemicals and improve production efficiency through preventive bio products. Tomato buyers highlighted a growing demand for high-quality products among consumers, especially in major supermarkets, where they were ready to pay more for GAP quality produce. At the event, farmers were also introduced to applications that could help them improve financial and inputs management, as well as to financial products available to support agriculture production in the Nyaung Shwe area.
"Agriculture is an area where Myanmar has a significant comparative advantage with abundant land and water resources. It is vital for these resources to be well-managed to ensure long-term sustainability of this sector as well as to ensure the health and safety of the population," said Vikram Kumar, IFC Country Manager for Myanmar. "We are pleased to support MoALI's efforts to institute GAP in the Inle Lake area and to support the Ministry at the national level to improve the regulatory environment, standards and use of agriculture inputs for other crops, such as rice and sesame seeds."