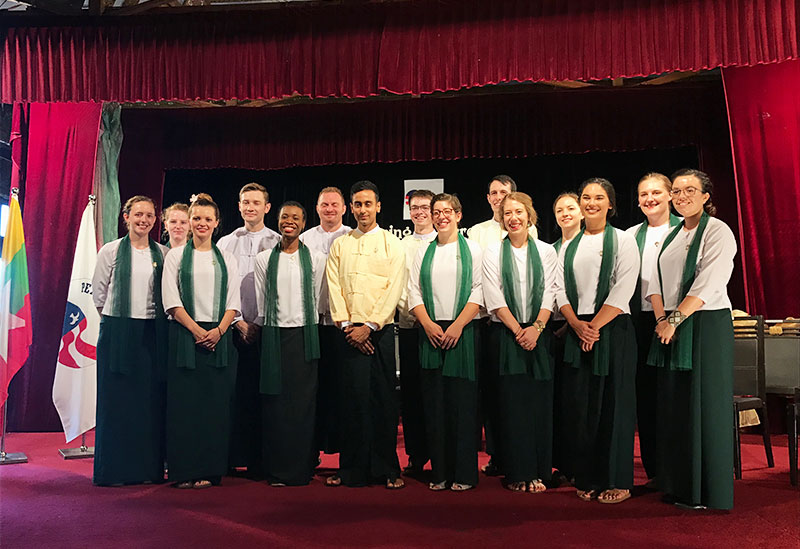 Fifteen American volunteers were sworn in to the United States Peace Corps on Friday in a ceremony at Yangon's Karaweik Palace. The Peace Corps is a U.S. government organization that trains and places American citizens in two-year long volunteer positions around the globe.
The group of five men and ten women, known collectively as MM2, are the second round of Peace Corps volunteers sent to Myanmar by the United States government-run organization since the organizations was founded in 1961, and are the first group of Peace Corps volunteers expected to serve a full two-year term in the country.
The 15 new arrivals just returned from the Bago Region, where they went through a ten-week pre-service training. There, the MM2's received instruction on basic Myanmar language & culture, teaching-skills and health & safety, while living with the local community. To prepare for their teaching assignments, the trainees gave practice lessons to Myanmar students in Bago schools. In the coming weeks, the newly sworn in Corps members will begin their assignments teaching English language at middle and high schools in the Yangon and Bago regions.
Fresh off their training, the new volunteers arrived to Karaweik Palace in the traditional Myanmar teacher's uniform, a white button up shirt with green longyi. Several diplomats and dignitaries, including U.S. Charge d'affaires Kristen Bauer, Peace Corps Acting Director Sheila Crowley and Rector of Yangon East University Dr. Kyaw Kyaw Khaung addressed attendees at the event.
The international organization's leader, Crowley, congratulated the new volunteers on finishing their training. "I can't stress enough how proud I am of our Myanmar volunteers," she said. "They reflect the finest values of selfless service that the American people represent." The Acting Director then joked, "finally, after much practice, you have mastered the art of tying the longyi."
The Peace Corps sent their first group to Myanmar in 2016 for a six-month trial run, "to lay the groundwork," for future volunteers, said Peace Corps Myanmar Country Director Maura Fulton.  Upon returning from their teaching posts this March, the pioneer group of Corps members "found the warmth of the Myanmar people so overwhelming" that three of the six volunteers stayed in Myanmar after their assignments ended, Fulton said.
Stacer McChesney, of Oregon, U.S.A., was part of this first group of Peace Corps volunteers in Myanmar. He taught English to middle and high school students in Yangon. After McChesney's six-months of service, he decided to remain in country, working for the Joint-Peace Fund in Yangon. "It's a really interesting time to be in Myanmar and to have this program open up at this specific time. It was an honor to work with such important institutions," he said.
Continued expansion despite cuts to U.S. Diplomatic Missions across the world
The Peace Corps was established in 1961 by U.S. President John F. Kennedy "to promote world peace and friendship" by fostering cultural exchange between U.S. citizens and its allies, as the organization provides skilled workers to nations who desire professional support and trained manpower, according to the organization's founding charter. In its 56 years of existence, the Peace Corps has sent over 225,000 American service-volunteers to 141 countries on 27-month terms. Myanmar is the Peace Corps' 141st and newest post.
In the next year, Myanmar's Peace Corps plans on doubling the number of volunteers in the country from 15 to 30, according to Fulton. This comes as U.S. President Donald Trump's "America First" Budget, plans to impose large cuts to U.S. diplomatic organization—including an approximately 28% reduction to the U.S. Department of State—while increasing funding to the United States Military by $54 billion.
Although the Peace Corps' funding is expected to be cut by $12 million in fiscal year 2018, their branch in Myanmar's budget will grow slightly from $2.1 million to 2.3 million. So, despite the Trump Administration's planned downsizing of United States diplomatic missions abroad, the organization's operations in Myanmar will continue to grow.