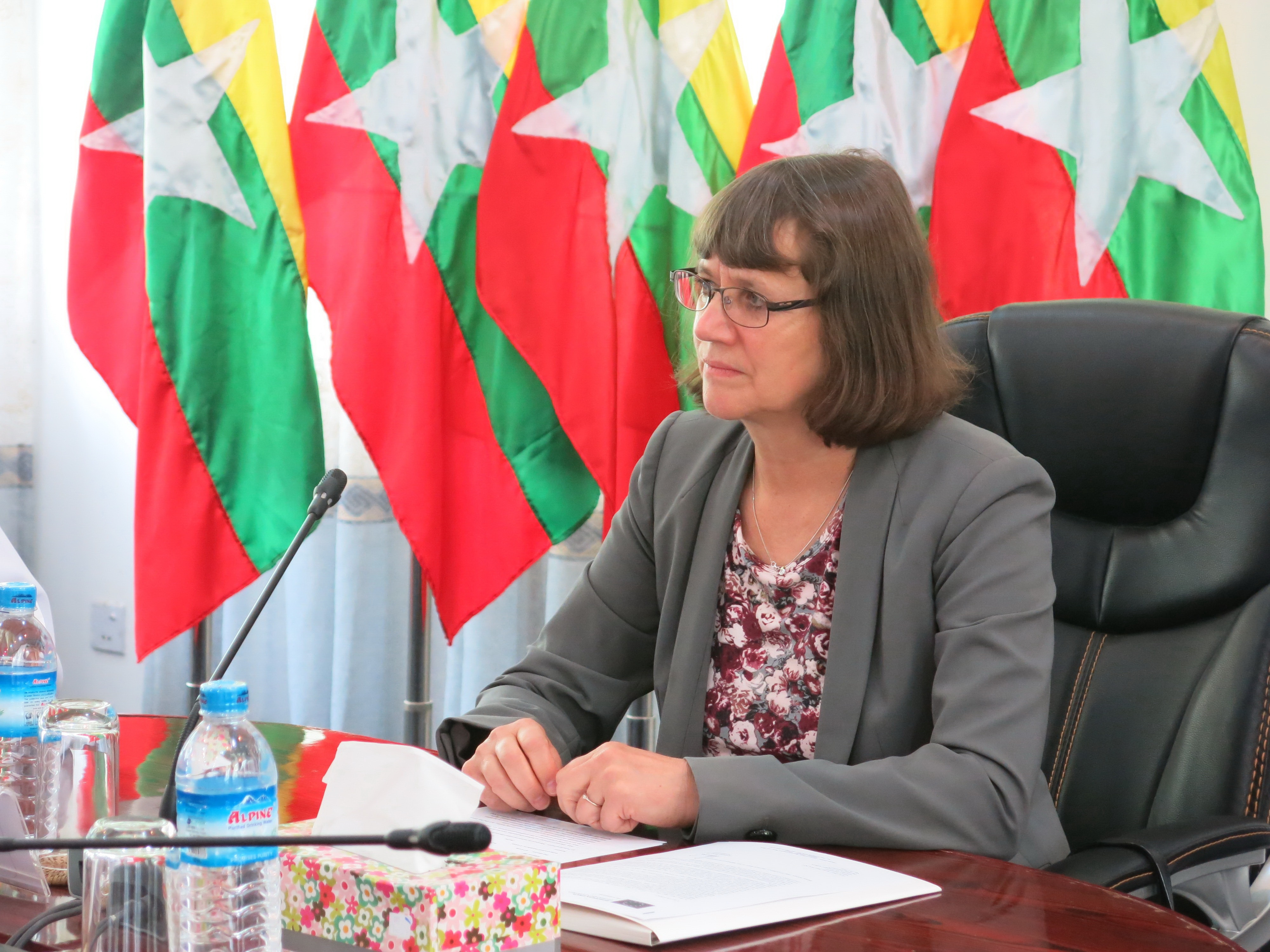 The German ambassador to Myanmar Dorothee Janetzke-Wenzel has described the situation in Rakhine state as "extremely serious and deeply worrying ", a day after the US threatened sanctions on the country for its handling of the crisis.
"The humanitarian and human rights situation in Rakhine state is extremely serious and deeply worrying," she said while delivering a talk on German foreign policy organised by Myanmar Institute for Strategic & International Studies (MISIS) on Wednesday.
She said that during aerial trips over Rakhine, it was apparent that the burning of villages had been "very systematic."
"Some of the facts are very hard to ascertain. We know of the terrorist attacks by the ARSA. But we are not quite sure, what happens afterwards," she said
"The reactions of the army was expected and would have happened in other countries, but we do not know how widespread and intense it was ... When we looked at the burned villages from the helicopters it appears to be very systematic burning … there must have been a lot of intimidation for 600 000 people to flee their homes."
And then she insisted that "something needs to be done."
MISIS members pointed to the unusually harsh global critique of Myanmar in international forums like the UN  or by countries like the US.
They said the Aung San Suu Kyi government was in negotiations with Bangladesh to settle on a definite time frame to take back all those refugees who had fled into Bangladesh.
"But we are facing the problem with verification because many refugees do not have documents which may have been burnt in their village homes," one MISIS member said.
The German ambassador admitted that this was a problem.
"I can understand you want your people back and not others."
But she inisted that this problem could be tackled with elaborate cross verification by involving neighbours and others who knew those claiming to have fled without documents.
Besides projects that are focused on the development of Rakhine State, Myanmar needs a "profound look" at its own history, Janetzke-Wenzel said. "You have to start with the history again, you need mediation between the people. .... thus they know each other." 
Furthermore it is very important to underline, that crimes against humanity have consequences, highlighted the German ambassador. 
"If there are human rights violations, (those responsible) should be prosecuted," she said. 
As the European Union pointed out clearly, crimes against humanity "are not acceptable". 
Janetzke-Wenzel said she sees the "the good intentions" of the State Counsellor Aung San Suu Kyi, but to stop the ongoing crisis, the "problems need to be tackled systematically and strongly."