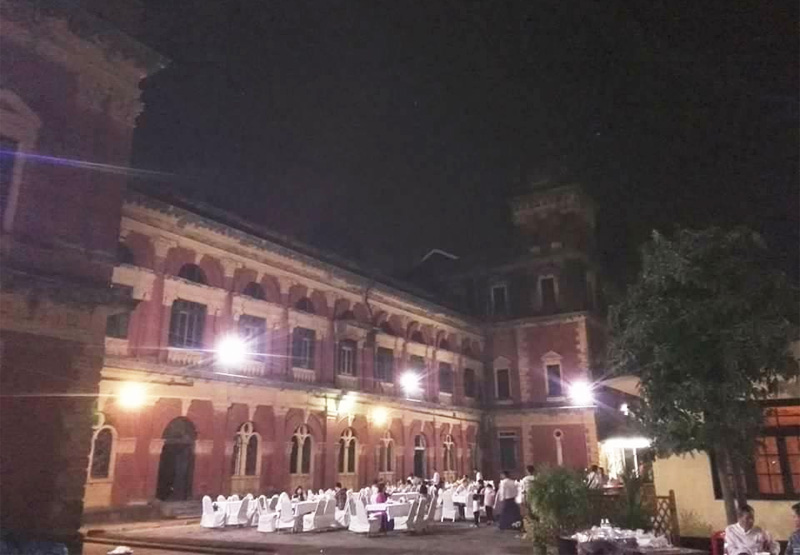 A glitzy private party for the Myanmar elite at a monument long closed to the public has unleashed a storm of resentment on social media against descendants of former military rulers. 
Photos of the event on March 21 inside the courtyard of the crumbling colonial-era secretariat building in Yangon, the former seat of government, were posted on Facebook by one of the guests - the grandson of Myanmar's former military strongman Ne Win. 
They have been widely shared on social media and on March 22 Information Minister U Ye Htut waded into the row by posting some of the images on his official Facebook page alongside a critical comment.
"I don't like this action if it's a birthday party," he wrote in a post that had received more than 5,000 'likes' by the following afternoon and generated a cascade of comments.
"Why was such an important (building) put in the hands of (this) group of people... why  can't they renovate this historic place with state funding?" said one Facebook user, under the name Kan Myaing, also criticising the huge cost of relocating the capital from Yangon to Nay Pyi Taw 10 years ago.
It was not immediately clear who organised the party in the secretariat grounds.
Controversy was sparked after Aye Ne Win - whose grandfather seized power in a 1962 coup which ushered in a half-century of army rule - posted pictures of the event, saying the evening had a "strong scent of nostalgia".
He added, writing in English, that "many guests have fond memories of visiting their fathers and grandfathers when they occupied offices in some of the rooms in this layers of labyrinth".
The gracefully decaying secretariat, which sprawls across several blocks in central Yangon, is revered for the central role it has played in Myanmar's dramatic political history.
The father of opposition leader Daw Aung San Suu Kyi, independence hero Aung San, was assassinated along with his cabinet within its walls in 1947, just before the country was freed from colonial rule. 
Last year US President Barack Obama toured the building before holding talks with Suu Kyi.
Redevelopment of the historic site was awarded to a little-known private firm, Anawmar Art Group, following a tender launched by the new quasi-civilian government in 2011.
The influential Yangon Heritage Trust, which is helping to create a conservation plan for the building, issued a statement Monday saying it had "no control over the site".
Anawmar is planning to create a museum in the massive complex, according to the trust.
No one from Anawmar was available to comment Monday.
© AFP