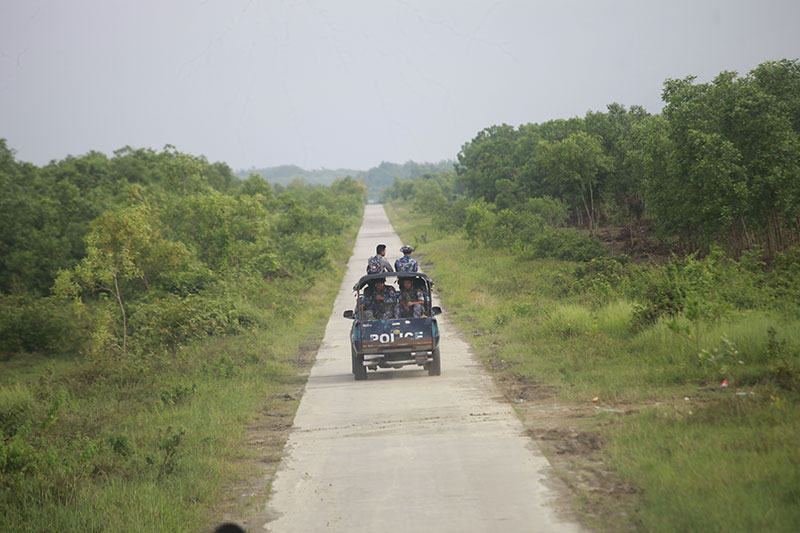 The Information Committee of the government issued a news release on fatalities, the injured and destruction due to ARSA extremist terrorists' attacks in Buthidaung and Maungtaw townships in northern Rakhine State yesterday evening.
According to the release,
"In the morning of August 25, ARSA extremist terrorists made violent surprise attacks on 30 border guard police outposts, simultaneously, claiming security forces, government service personnel and innocent people with many injured.
Due to violent attacks and killings in sparsely populated villages, planting land mines on the entrance and exit ways to villages and consecutive arson attacks, innocent people are hiding and being placed to safer places.
Accordingly, the State Counsellor is holding negotiations with members of the Union Government and high-ranking officials of Tatmadaw, lifting up measures on security and rescue for innocent populace, by designating Maungtaw region as an operational zone and imposing curfew—section 144.
Moreover, so as to resist with sufficient amounts of forces and to make displaced people secure, miniature police outposts were combined. Security forces are performing the tasks of searching for terrorists and fighting against them, evacuating local nationals to safer places, providing provisions and other commodities, giving medical care and treatment, releasing warning and organizing for combined living with a view to bringing about peace and stability in the region. And, due to violent attacks of extremist terrorists from August 25 to September 5, there occurred 97 armed conflicts, in all, between security forces and ARSA extremist terrorists, claiming 15 altogether—13 security forces and 2 government service men, and 28 civilians in all—14 local nationals, 7 Hindu local residents and 7 Bengalis, with 22 injured—15 security forces, 3 government staff and 4 nationals. Similarly, 59 villages, 6842 houses were burnt down, with 8 bridges destroyed by planted mines. ARSA extremist terrorists amounting to 371 were killed in fighting.
Due to terrorist attacks, there are 26,747 displaced people until now.
Under the current situations, the State Government will continue to perform the task of providing aid and subsidies to displaced people by laying down effective measures, on the assumption that it is incumbent upon the government to give humanitarian aids, together with the campaign, "Red Cross Movement." Displaced people will be delivered subsidies without segregation, in accordance with the fundamental principles on giving humanitarian aid for donors from home and abroad to take part in contributing the donations."