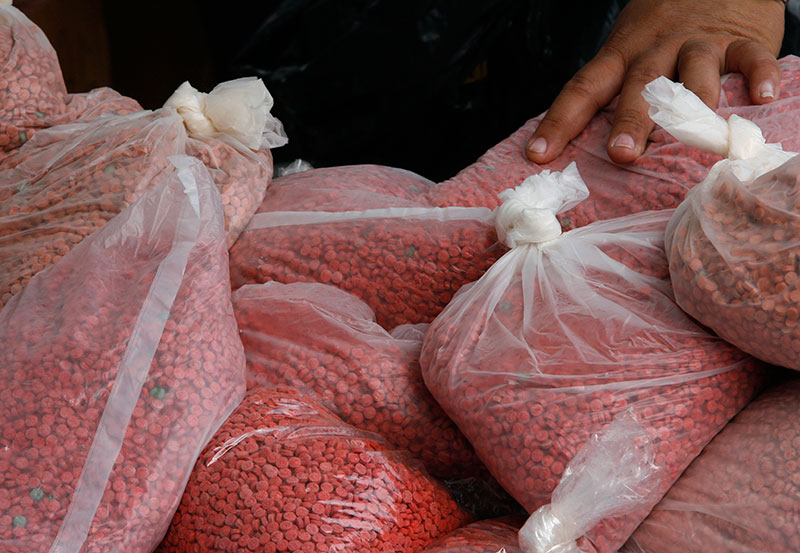 Mon State has experienced 110 drug offences occurring between January 1 and June 24. On June 24, 1,944 Yaba tablets were seized in Mudon Town, near Mon State's capital, Moulmein.
Minister of Security and Border Affairs Colonel Win Naing Oo at Mon State's second regular Hluttaw session on June 27 reported that the 1,994 Yaba tablet seizure took place on the road between Mudon and KyunYwa in Mudon Town, Mon State.
"The Yaba seizure took place in front of the Shon Pyaw Pyaw Restaurant on the Mudon-KyunYwa road, Myo-ma 4 Ward, Mudon Town. The police pulled over Zin Lin Oo, who was on motorbike at the time and found the Yaba with him," said Colonel Win Naing Oo.
Meanwhile, on June 26, to mark the International Day against Drug Abuse and Illicit Trafficking, Mon youths and monks organized an anti-drug discussion in Yan-myo Aung ward of Ye Town, southern Mon State.
The event's objectives were eliminating drug dealing, education on drug use and the cooperation between government organizations, civil society organizations and respective authority department officials in order to end drug consumption completely, according to Sayadaw U Ponya Linkara, who also led the event.
Approximately, 200 youths marched in Ye Town against the use of harmful drugs, yelling slogans and holding posters stating "eliminating drugs is our cause".
Out of Mon State's 10 townships, the most drug dealing and consumption takes place in Ye Township, according to U Myo Aung, administrator of Kyaung Ywa Village, Ye Township.
From the 110 drug cases, 148 people, comprised of 136 men and 12 women, were arrested from January 1 to June 24, 2016, in Mon State. Consequently, it shows Mon State experienced the most drug cases within the last 6 months, according to the Minister of Security and Border Affair.
Mon State government formed respective groups of anti-narcotics and psychotropic drugs, including one group for union level, 2 groups for District-level, 10 groups for township-level and 431 for village/ward levels.
Courtesy BNI