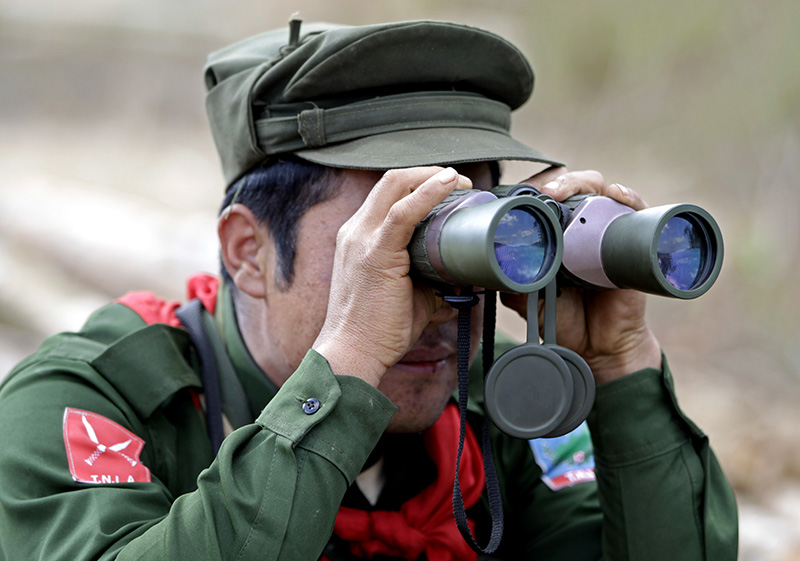 More than 300 villagers in Hsipaw Township have fled their homes to escape repeated clashes between the Ta'ang National Liberation Army (TNLA) and the Restoration Council of Shan State/Shan State Army (RCSS/SSA), according to a representative from the Shan Nationalities League for Democracy (SNLD).
Sai Sai, an SNLD member in Hsipaw Township, said that families from Wan Loi village had been leaving their homes since July 8. He said they were currently staying at Yadana Shwegu Monastery in the main town of Hsipaw.
"On July 8, 217 persons from 57 households took shelter at the Yadana Shwegu temple. On July 9 another 122 persons from 35 households, and yesterday 39 villagers sought refuge at the temple," he said on Monday. "So, within three days, at least 378 persons have been displaced from their homes."
According to a resident in Hsipaw, who wished to remain anonymous, the villagers ran away because they were afraid of being recruited as soldiers.
Fighting between the two ethnic militias broke out last week in northern Shan State's Hsipaw Township, some 200 kilometres northeast of Mandalay. It is a disputed area where several armed groups are active: the RCSS/SSA; the TNLA; the Shan State Progress Party/Shan State Army (SSPP/SSA); and Burma's government forces. Skirmishes between each of the armed groups have been reported in recent months.
On Monday, the TNLA's news and information department posted on its Facebook page details of a clash that it said happened that morning at 9:30 when RCSS/SSA troops entered into their territory.
The first clash between the TNLA, sometimes called the Palaung Army, and the RCSS/SSA broke out in November 2015, only a month after the so-called Nationwide Ceasefire Agreement was signed between the Burmese government and eight ethnic armed groups, including the RCSS/SSA. Hostilities have since broken out frequently.
In late May, residents in the Hsipaw area were also forced to leave their homes because of conflicts between the two armies.
At the time of reporting, Shan Herald was unable to reach either TNLA or RCSS/SSA representatives for comment.
Courtesy BNI