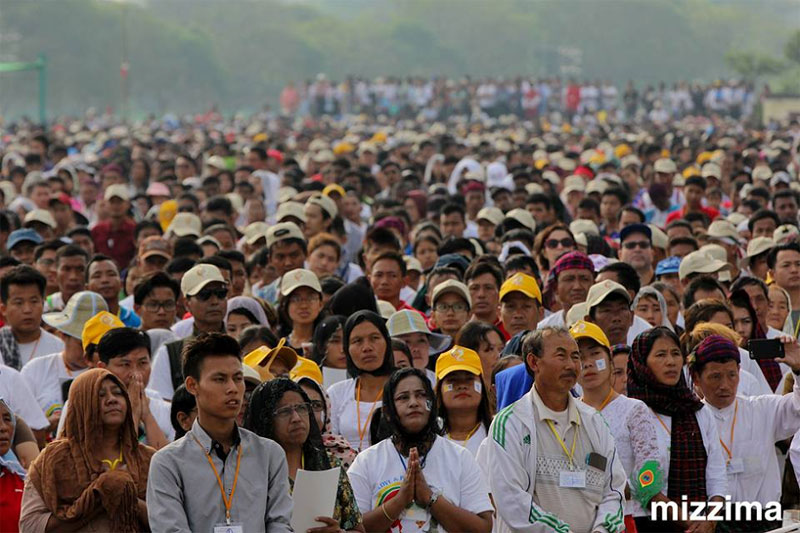 A sea of worshippers crowded into a football field in Yangon early Wednesday for an open-air mass by Pope Francis, who is making the first ever papal visit to Myanmar.
Ranks of Myanmar nuns in habits sang in Latin, backed by organ music as Francis delivered a homily urging compassion, opening his speech with 'minglabar', Burmese for hello.
"I can see that the Church here is alive," he said of a Catholic community numbering around 700,000 -- a tiny fraction of the country's 51 million population, most of whom are Buddhists.
Earlier Francis smiled and waved as he snaked through the estimated 150,000 faithful in his "popemobile", many of the worshippers holding Myanmar flags and wearing colourful clothes from the country's myriad ethnic groups.
"I never dreamed I would see him (the pope) in my lifetime," said Meo, an 81-year-old from the Akha minority in Shan state.
Like many others at the mass she is from one of Myanmar's conflict-riddled borderlands, and travelled far to reach the commercial capital for the landmark visit.
"This is the most Catholics I have ever seen," added Gregory Than Zaw, 40, an ethnic Karen, who made the five-hour bus journey to Yangon with 90 people from his village.
© AFP