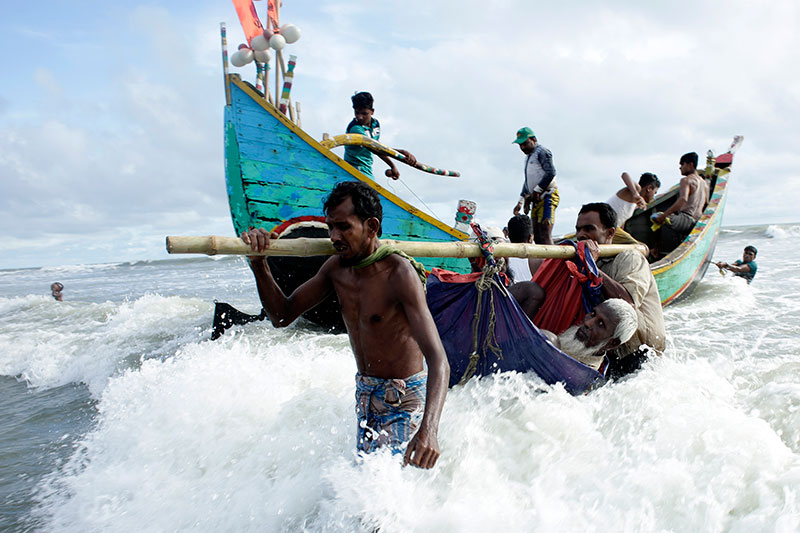 Bangladeshi boat operators are exploiting Rohingya Muslims fleeing violence in Myanmar by demanding up to $100 for ferry trips that usually cost 50 cents, as the United Nations warned Thursday of a "worst case scenario" in which the entire minority group tries to escape the unrest.
Some 389,000 Rohingya - including 10,000 in the past 24 hours -- have fled across the border since late August and there have been growing appeals for Myanmar's leader Aung San Suu Kyi to speak out in their defence.
Many have trekked across hills and through jungles for days to reach the border only to be faced with hugely inflated prices for a seat on a boat crossing the Naf river that divides the two countries.
Bangladeshi magistrates operating mobile courts in the border town of Cox's Bazar and nearby districts have now started sentencing boat owners and local villagers to terms of up to six months in prison, officials said Thursday.
Government spokesman Khaled Mahmud from the Cox's Bazar district told AFP that the mobile courts have convicted 165 people -- of whom 160 people were jailed for between three to six months and the remaining five were fined.
An AFP correspondent at the river said boat owners were charging refugees up to $100 for a 10-30 minute trip that would normally cost less than 50 cents -- a mark-up of 200 times.
"The boatman extracted every last penny from us for the ferry. Now we want to go to the camp but don't have any money," Momena Begum, 35, a Rohingya mother of five, told AFP.
She sat with her children beside a highway running along the beach at Teknaf, unable to get a ride to the refugee camps some 10 kilometres (six miles) from the border.
"The boatmen threatened to throw us into the sea if we refused to give them our valuables," said Nadera Banu, 19, who got married only last year but is already a widow.
"I gave up the final memento of my husband, a gold locket given on my wedding day, to escape," she said.
Media reports have mentioned Rohingya being held by boatmen and agents for hours in coastal villages until they received inflated payments for the trip.
© AFP