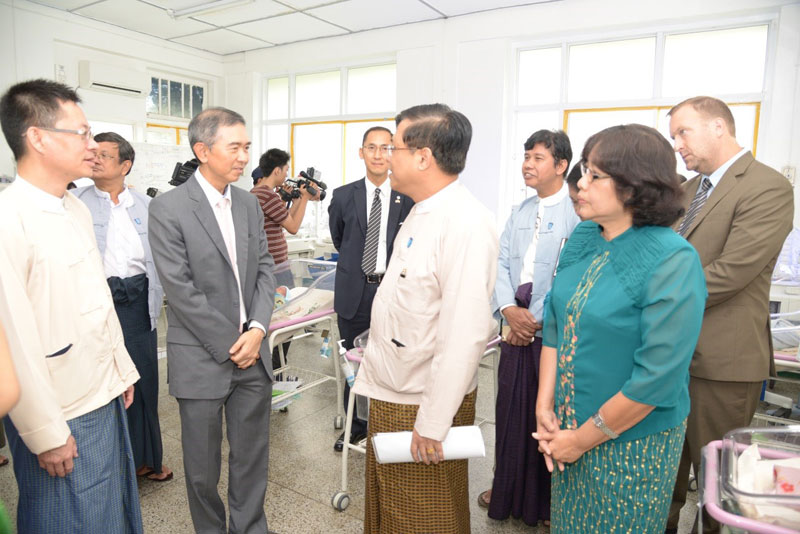 In partnership with the Myanmar Ministry of Health, GE and the GE Foundation held a ceremony at Yangon Central Women's Hospital to celebrate the delivery and installation of medical equipment at major hospitals in Yangon on 27 June according to a media release.
The donated equipment covers critical hospital services such as maternal and child care, emergency care, and includes incubators, baby warmers, LED phototherapy, vital sign monitors, and ultrasounds. The equipment has been installed at three hospitals in Yangon, Thanlyin District Hospital, South Okkalapa Women and Children Hospital, and Central Women Hospital. GE technology helps clinicians and healthcare workers deliver better care to patients, many of them women and children in critical condition.
This project underpins the GE Foundation signature program, Developing Health Globally™, and the commitment to improve access to healthcare in Myanmar, by providing technology and biomedical equipment training (BMET) at public hospitals, increasing the pipeline of primary care physicians in the public sector, and improving maternal and newborn care and mortality rates.
"Strengthening healthcare systems is critical for Myanmar's economic growth. We are constantly improving our country's healthcare systems, and we are appreciative to GE and GE Foundation for their support," said Dr. Than Aung, Minister of Health.
"We are grateful to have the opportunity to help improve the healthcare system in Myanmar," said David M. Barash, M.D., Executive Director and Chief Medical Officer of the GE Foundation.
"This capacity-building program delivers healthcare equipment, a structured training curriculum, and develop a pipeline of locally accredited physicians, in line with GE's overall commitment to drive knowledge transfer, capabilities building and local job creation. We are pleased to have collaborated with the government of Myanmar since 2012 to help expand access to healthcare in this region. We are committed to continuing work with the government on these capacity-building projects to help meet its 'Myanmar Health Vision' goals."