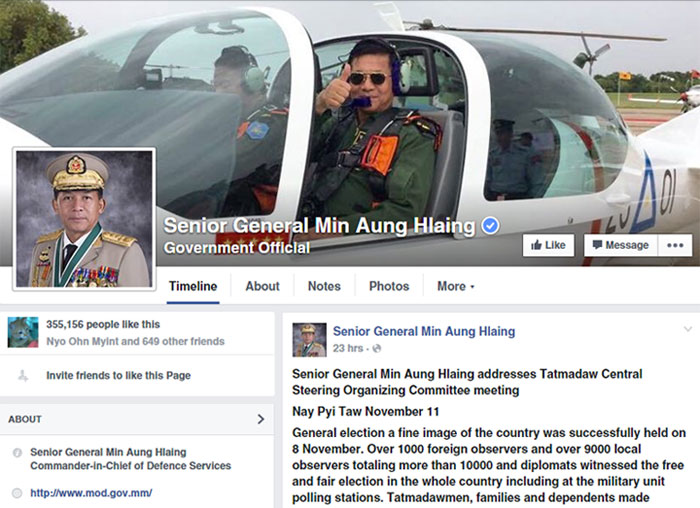 As Myanmar's opposition sit on the cusp of a historic victory, the twists and turns of the election are playing out on a medium virtually unknown inside the country a few years ago: social media.
Everyone from Aung San Suu Kyi's jubilant National League for Democracy (NLD) supporters to ruling President Thein Sein and the country's army chief are using Facebook to relay their message as the country looks set for its biggest political shake-up in decades.
Millions in the former junta-ruled state have embraced social media, in particular the US-founded network, since the army made way for a quasi-civilian regime in 2011.
It's where the latest updates on Sunday's keenly-watched poll results are also emerging, including from government officials, a seemingly unlikely but increasingly popular tool for a country that sealed its citizens from the world for nearly half a century under military rule.
In the surveillance state junta days, the Internet was virtually non-existent while a SIM card would cost as much as $3,000. 
The military's huge security apparatus made sure the people were listened in on and had as little access to the outside world as possible. 
But on Wednesday, Myanmar's powerful army chief Min Aung Hlaing took to Facebook to post a message congratulating the NLD for "winning a majority", vowing "co-operation with the new government".
President Thein Sein, a former general, also congratulated Suu Kyi for "winning the people's approval" through the site.
The government has been a surprisingly early adopter of Facebook with prominent figures hosting pages long before US President Barack Obama, who only launched one on Monday.
It is the favoured venue for heated political debate, rivalry and insults from different sides.
Just days before Sunday's poll an official video warning of bloodshed similar to the aftermath of the Arab Spring, in the event of a USDP defeat, was posted on Thein Sein's page.
It drew an angry response on social media, something unthinkable only a few years ago, with users accusing the president's office of hypocrisy at a time when several ethnic insurgencies still rage in the borderlands.
The digital revolution has belatedly taken grip in Myanmar as the army loosens its iron hold over the nation with a spate of political and economic reforms unleashed under Thein Sein.
Just one percent of the population was thought to have access to the Internet in 2011, but now millions are online with the advent of cut-price technology.
Outside major cities, however, vast pockets of the country still have no electricity and mobile penetration remains low.
In recent months a growing clampdown on free speech has also targeted the social network with two activists arrested over Facebook posts about the military last month.
© AFP