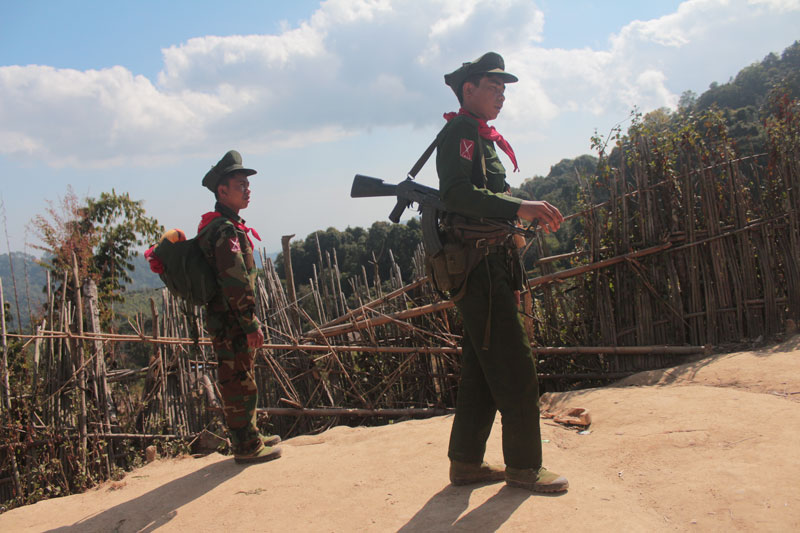 Shan State Progress Party/Shan State Army (SSPP/SSA) has urged the Ta'ang National Liberation Army (TNLA) and the Restoration Council of Shan State/Shan State Army (RCSS/SSA) to find ways to stop fighting between the two groups – the RCSS/SSA and the TNLA.
The statement of SSPP/SSA, which is dated May 7, says, "Fresh fighting broke out between RCSS and TNLA, and we strongly urged both sides to find a solution as soon as possible via peaceful dialogue rather than military action."
Most of the fighting between RCSS and the TNLA broke out in the areas controlled by the SSPP, so the SSPP had to control the situation in order that the fighting not to spread, the statement of SSPP says, adding that SSPP has stayed neutral.
SSPP has said this is an important time in which problems must be solved via political means rather than military means. The fresh fighting like these can delay the ethnic minorities' main aim to build a genuine federal Union, says SSPP.
More than 500 people fled to monasteries in Kyaukme Township due to the fighting.
Regarding the venue for the meeting between the two groups, RCSS has proposed they want to meet in Chiang Mai in Thailand, but the TNLA wants to meet at Mongla, a border town adjacent to China, so the agreement has not been reached with regard to the venue, Tun Zaw, a member of a five-member committee formed by the the United Nationalities Federal Council (UNFC), recently told Mizzima.
Fighting broke out between RCSS and TNLA from May 1 to May 7 at Mantone, Namhkam and Kyaukme townships, TNLA informational official Mai Eik Kyaw says, adding another bout of fighting broke out near Htansant Village in Hsipaw Township in the morning of May 7.