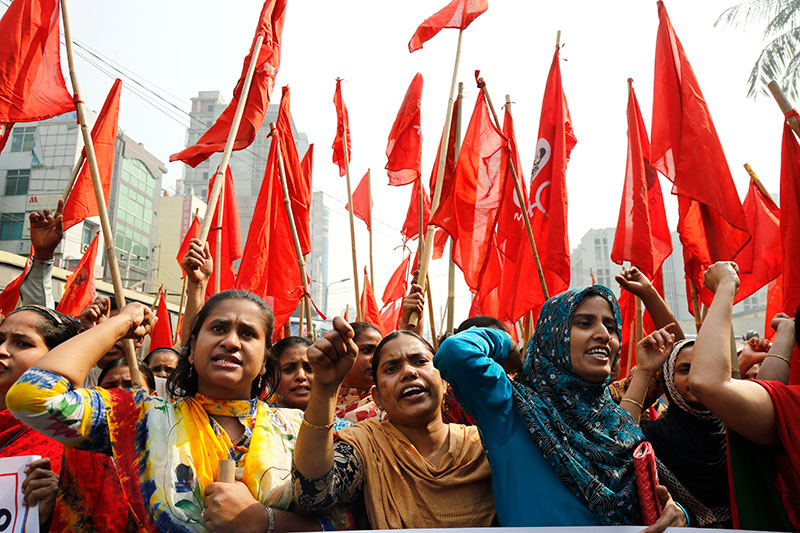 Bangladeshi garment workers are living in constant fear of arrest as police hunt those involved in strikes over wages that have disrupted the global textile hub, union leaders said Thursday.
Tens of thousands of workers in the industrial town of Ashulia staged mass protests in December demanding a three-fold hike in pay, which can dip as low as $68 a month.
The strikes were quashed and some arrests made, and garment manufacturers sacked some 1600 workers.
But unions say workers are living in a climate of fear amid a harsh crackdown in Ashulia, where garment factories churn out clothes for some of the world's top-selling brands.
"Most union leaders don't live at home because of persistent fear of being arrested," Babul Akhter, who heads a garment workers' federation, told AFP.
"Police have shut down union offices. They are even harassing workers who were sacked and went back to their villages."
A police chief with the industrial unit in Ashulia refused to comment on the allegations.
Human Rights Watch said Wednesday the arbitrary arrest of workers had increased in recent days, saying union representatives were facing "unfair or apparently fabricated criminal cases".
Union activist Shamima Nasrin said plainclothes police had raided her home three times since the protests, forcing her to "roam around like a fugitive".
In January brands such as H&M, GAP and Primark urged Prime Minister Sheikh Hasina to consider worker demands, but government officials have ruled out any wage hike before 2019.
Bangladesh's $30 billion garment industry accounts for 80 percent of its annual exports, but it has a woeful history of poor pay and conditions for its four million workers.
The Bangladesh Garment Manufacturers and Exporters Association, which represents the country's 4,500 clothing factories, has labelled the strikes illegal, and warned salary rises would drive retailers in Europe and the US to competitor markets like Myanmar.
Protests over poor wages, benefits and working conditions are frequent here, but gained intensity after the collapse of the Rana Plaza factory complex in April 2013, which killed 1,138 people.
© AFP