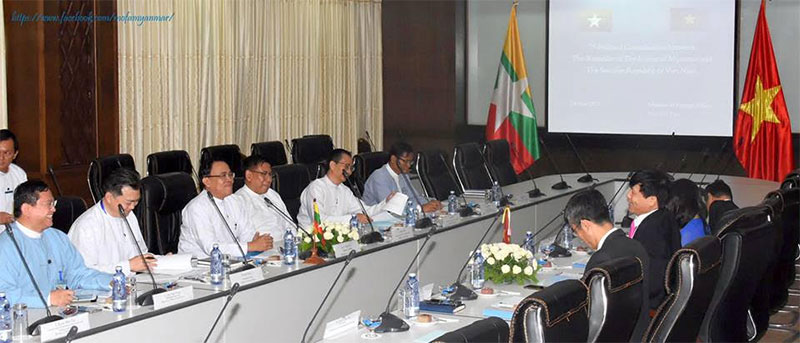 Myanmar and Vietnam have held the seventh political consultations in Nay Pyi Taw, covering a wide range of issues on bilateral relations and multi-faceted cooperation, according to Myanmar's Ministry of Foreign Affairs on Tuesday.
The Myanmar delegation was led by Minister of State for Foreign Affairs U Kyaw Tin, while the Vietnamese delegation was headed by Vice Minister of Foreign Affairs Dang DinhQuy.
Monday's consultations also covered the implementation of bilateral agreements signed between the two countries, such as on promotion of trade and investment, tourism, agriculture, banking, telecommunications and energy.
The meeting also exchanged views on regional and international matters of mutual interest.
On the same day, Myanmar State Counsellor Aung San Suu Kyi met with the Vietnamese vice minister and the two also discussed matters related to regional and bilateral cooperation, including promotion of agriculture, tourism and aviation.
Vietnam stood as the seventh largest investor in Myanmar's investment line-up with a total of 2.079 billion US dollars as of March this year since late 1988.
Bilateral trade between the two countries reached 494.036 million dollars in fiscal year 2016-17 which ended in March, according to statistics.
Courtesy Global Times