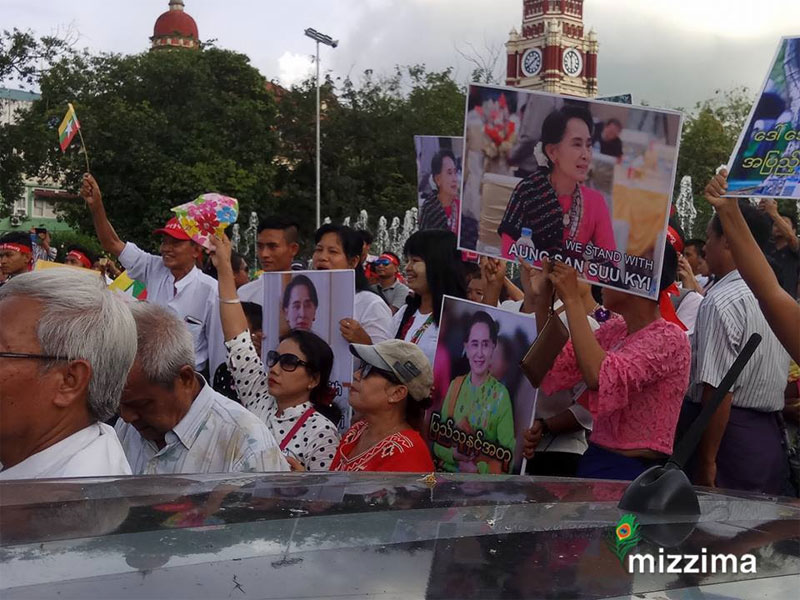 Residents in Myanmar's Yangon city have staged a rally to show support for State Counsellor Aung San Suu Kyi in her handling of the issue of northern Rakhine state. 
Showing their solidarity with Aung San Suu Kyi, who is under international pressure on the issue, the participants said the state counsellor is taking a firm stand in handling the situation in Rakhine. 
The crowd, who started their march on Sunday afternoon and ended at the Maha Bandoola Park in front of City Hall in downtown Yangon, called for unity among citizens to overcome the pressure put on Aung San Suu Kyi from some other countries and some international organizations. 
On Sept. 24, a similar event was held in Yangon to show support for the actions and decisions Aung San Suu Kyi had taken over the Rakhine issue. 
Aung San Suu Kyi, in her speech on the government's national reconciliation and peace efforts on Sept. 19, called on the international community to provide cooperation in order to constructively tackle the issue of northern Rakhine state.
She voiced her government's pledge to implement the recommendations by the Advisory Commission, led by former UN Secretary-General Kofi Annan, saying those recommendations will help bring speedy improvement to the situation of the state within the shortest time frame. 
She highlighted the government's social economic development in Rakhine, saying that the Rakhine state's socio-economic development plan 2017-2021 has been drafted to boost regional development in various sectors including infrastructure and electrification as well as creation of new job opportunities for local people through private-public partnership. 
She stressed that all people in Rakhine state, including Muslim students, have access to education and healthcare services without discrimination. 
A day after her special speech, Aung San Suu Kyi held a meeting with the Implementation Committee of Recommendations on Rakhine state. 
She said that the Myanmar authorities are also planning to form a committee to implement national verification process as well as the rehabilitation and resettlement and long-term development programs, not only for Muslims but also for Rakhines and other ethnic groups who had fled their villages due to extremist terrorists' attacks. 
The Arakan Rohingya Salvation Army (ARSA) extremist terrorists launched attacks on police outposts in Rakhine on Aug. 25, displacing residents from a number of areas in Maungtaw district to border areas with Bangladesh.
Courtesy Global Times