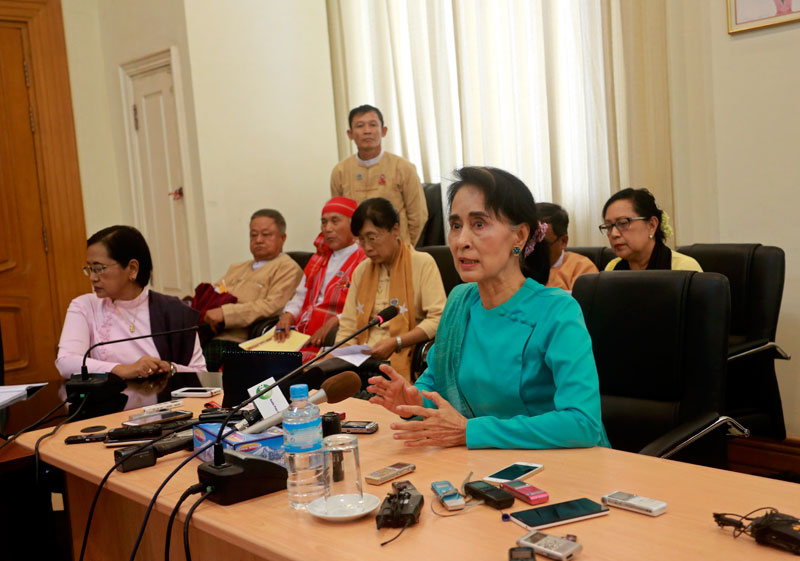 Swiss diplomats have been helping Myanmar draw up a democratic code of good conduct, with 67 political parties signing a voluntary code of conduct for the 2015 general election on Friday with the Union Election Commission (UEC).
The Code of Conduct was formulated by the Swiss government. Similar versions were used by South Africa in 1994 and Nepal in 2013.
"It's essential for the up-coming election and for the ethnic parties," U Win Myint, chairman of Nyaung Shwe-based Inn National Development Party, told Mizzima. In 2010, compared with the powerful and popular parties, the smaller ethnic parties' rights weren't well guaranteed, he said.
It is the country's first electoral code of conduct signed by the political parties and the commission. All the signatories will form a monitoring committee to facilitate the implementation of the code.
The 67 signing parties included the ruling Union Solidarity and Development Party (USDP) and the largest opposition party, the National League for Democracy (NLD). There are 79 political parties in total legally registered in Myanmar, according to the commission.
According to the code, the parties shall not buy votes and campaign for a candidate using government resources.  
They should respect the freedom of the news media and avoid harassing and offering bribes to journalists and their outlets.
They should refrain from language encouraging hatred between religions, tribes and communities, and from gender-based criticism.
The UEC has not confirmed the exact date of the election, which will be held in late October or early November. The candidate registration thus has not started.
"The government will announce the date three months ahead of the election," U Win Ko, an UEC member, told Mizzima.
The Swiss Ambassador to Myanmar and the former head of Nepal Election Commission Bojraj Pokharel were the facilitators and technical advisors of the drafting and signing processes.
(Note: This is an updated version of our story that ran earlier in the day)