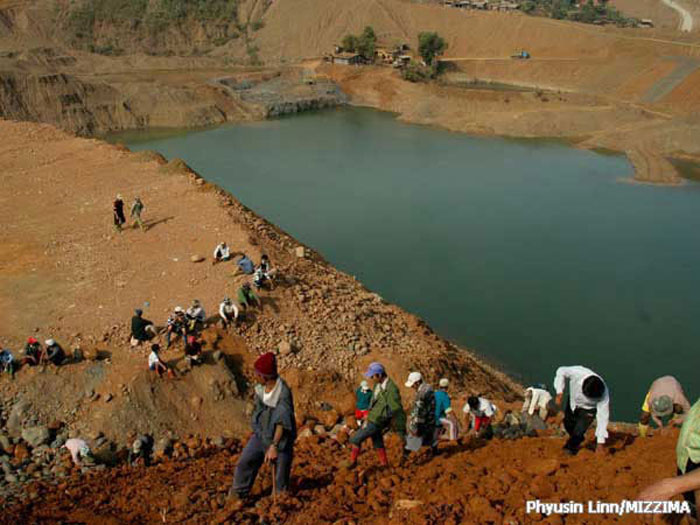 In an interview with the BNI Election Newsroom, newly elected Lower House MP, U Tint Soe, spoke about the current situation involving the excavation of natural resources in his hometown, Hpakant, in western Kachin State.
Q: Can you tell us about the current situation in Hpakant?
A: I want to say that there is no rule of law or peace in Hpakant now. I want to say that Global Witness's recent report on the status of Myanmar jade resources is nearly all correct.
Businesses owned by local citizens are very few in our Hpakant. Also, the real owners of the companies are not Chinese people born in Myanmar but Chinese citizens. I have been living in Hpakant for 27 years. As everyone knows, our citizens did not have the right to receive much benefit from the natural resources in our country.
Q: How much damage has natural resources excavation done to the area?
A: The amount of environmental damage is quite unbelievable. Our Hpakant area was an area with natural mountains and presentable [natural] resources in the past.
Now, all the soil has been destroyed. If I were to talk in terms of area, nearly 400 square miles have been totally destroyed. They have become pot-holes and waste soils. It has become like a desert. If I were to talk about the extent of deforestation caused by companies that cut down the trees for daily use such as firewood, coal and constructing buildings. We could cut the trees and bamboo at the entrance of our village in the past. Now, we have to travel at least 40 miles from the village to cut down trees. A lot of conservation effort is needed.
The main thing is the fate of Uru Creek. We used to depend on this creek for drinking water and domestic use 27 or 28 years ago, but now we can barely wash our feet with the water from this Uru Creek. All the villages located beside the Uru Creek suffered a great deal from flooding when the water level of the creek rose 20 to 30 feet. We have never seen such kind of floods before. Whenever flooding takes place, the water rises for three or four days.
The environmental damage caused by jade mining and the destruction of Uru Creek has become worrisome.
Q: Local media has reported that more natural resources excavation is being carried before the new government takes office. As the Lower House MP for Hpakant, can you confirm that these reports are true?
A: Yes, this is true. Big machines are being used in excavation. We have seen such kind of big machines before. There were traffic jams on the road after nearly 300 big machines traveled on the Hpakan to Myitkyina road. Since these machines are quite enormous, there were traffic jams on the road. We have learned that big trucks are also being brought here from Khani in Sagaing Region via the Chindwin River. Nearly 300 trucks are headed towards Hpakant. Many more big machines will be used to excavate as much jade as they can during the remaining three months.
I have never seen these kind of huge bulldozers before. In some places, two or three companies have been working together in a single work site to excavate in a drastic measure in order to finish quickly.
This is like taking out all the natural resources that should be left behind for our generations. In this current situation, we may have to go to China to see jade [in the future]. We need to immediately prevent this with laws. We need to limit the machines, like how many machines can only be used in each work site. Also, taxes have not been paid to the state for most of the machines that have entered our country.
Q: Have you prepared anything to prevent this situation when parliament is convened again? What will you carry out for Hpakant?
A: The most important thing is to have the rule of law and have companies that are excavating jade to apply officially. We need to find the companies that are not owned by local businessmen but by foreign businessmen. Next, we need to grant the business licenses to real citizens.
We need to pay attention to implementing the local residents' right to make a living. We need to implement easier and more convenient transportation systems here for transporting goods.
Many laws need to be amended for the jade industry. As there is no rule of law, a company that has been given a 10 acre work site has actually excavated beyond the designated area.
We need to act fairly for the state to receive benefits. Another thing is the Hpakant road. Billions of jade have been excavated from Hpakant, but the road being used is one of the worst roads in Myanmar. Many people who worked here excavated jewels from here, but they were unable to effectively carry this out for Hpakant's benefit.
Only the local companies look at the benefit of the area. We need to inspect such kind of acts where many neglect the area's benefit.
Q: What kind of protections should be implemented in response to dozens or hundreds of people being killed by landslides in Hpakant every year? Also, what kind of situation is needed by local residents?
A: People who are searching for raw jade and jade from the waste soils dumped by companies here have come from across Myanmar with many dreams.
The reason why tens of thousands of these people came is directly connected with the country's poverty. Their main dream is to become wealthy. They search for raw jade with no care for their lives.
Among them, some of them have found gems worth millions of dollars. These gems were found by risking lives. These people die from landslides and fall of natural rocks. In the recent incident, people only knew about the death of hundreds of people due to media reports. Many similar incidents have already happen here.
Hundreds of people were buried near the soil dump site last year. The authorities now say only a few people died. In order to prevent such incidents in the entire Hpakant area, raw jade miners need to be assigned a place to stay. They need to be educated to prevent them from being harmed during their work. Some of them live in tents near the soil dump where they are working. The authorities need to settle them in a place to prevent these incidents and educate them. I think many things need to be carried out.
Courtesy BNI